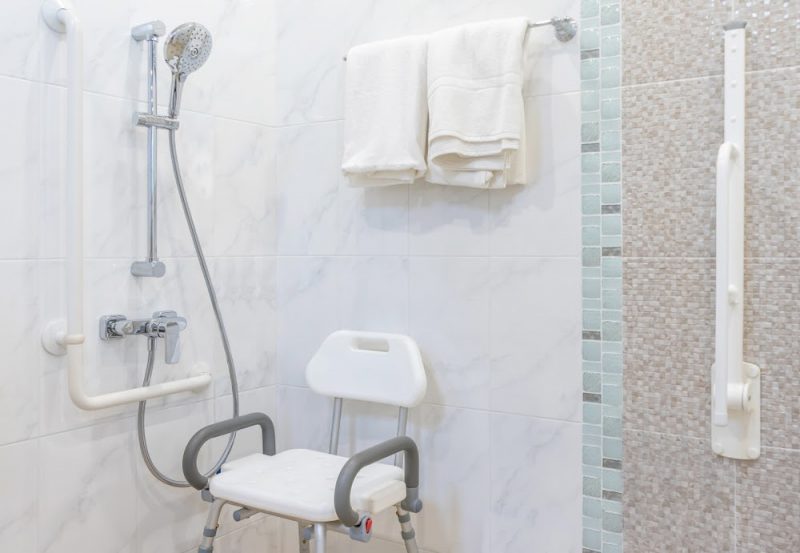 Studies show that slips and falls in the bathroom are the number one cause for injury for the elderly. When the shower floors are slippery from running water or the outside of the tub is moist due to steam, slipping can be easy, especially for elderly individuals.
If you or a loved one are too weak to walk to the bathroom, stand in the shower, or safely get on/off the toilet, you may benefit from some of these items for bath safety for the elderly.
Check out this list of the top seven bath safety items for the elderly!
Best Items For Bath Safety for the Elderly
1. Shower Seat
Shower seats are chairs, stools, or benches that allow individuals to sit in the shower instead of standing. If an elderly individual has a difficult time standing for long periods and cannot lower themselves into a bath, a shower seat may be a great option.
For instance, the Deluxe Aluminum Bath Chair has an adjustable height, skid-resistant suction feet, and drainage holes, so water doesn't pool in the seat. The chair is also lightweight, making it easy to set in your bathtub or shower.
2. Commode
Commodes are similar to bath chairs, but they have a built-in toilet so patients can use the toilet without leaving the shower or bath. If an elderly patient has an illness, injury, or disability that prevents them from using the toilet on their own or making it to the toilet on time, a shower commode may be a helpful option.
The Folding Steel Commode, for instance, has a foldable steel frame with a snap-on plastic seat and lid. The 12 qt. bucket has a carrying handle and is easy to clean up. The chair also folds down for easy storage.
3. Transfer Bench
Transfer benches are similar to shower chairs, except they are built with easy transfer in mind. In other words, these benches make it easier to move a patient from a wheelchair to the shower and vice versa. If you or your patient cannot support themselves or has limited mobility, a transfer bench may be a good option.
The K.D. Padded Transfer Bench has a comfortable cushioned seat and backrest for comfortable showers. The aluminum frame is lightweight and easy to move, but the feet have strong suction cups, so the chair is stable in the bath.
4. Shower Wheelchair
Shower wheelchairs are ideal for large, open showers because you can roll your waterproof wheelchair into the shower, rather than transporting your patient from a wheelchair to a chair.
The Roll-In Buddy with Tilt is an ergonomic tilting rehab shower chair with a commode attachment. The chair rolls easily in and out of showers and can be rolled over a standard toilet. The tilting feature distributes weight, so the patient is comfortable while showering.
5. Bathroom Transfer System
Many households have bathtubs, and most people do not have the resources to remodel their bathroom completely. Therefore, a bathroom transfer system may be a good option. They fit into most existing showers or tubs and cost a fraction of the price than a bathroom remodel.
The TubBuddy with Tilt rolls over most toilets, is height adjustable, is low maintenance, has removable armrests, a footplate, and an adjustable neck rest. With this model, you can transfer patients safely and easily over a bathtub and even tilt back for optimal comfort.
6. Rails and Grab Bars
Rails and Grab Bars attach to the walls of a bathtub or shower or the bath ledge. These bath safety items are easy to install, inexpensive, and can be invaluable when preventing slips and falls. If you or your patient use a bath chair, these rails and grab bars may make it easier transferring in and out of the shower/bath.
For instance, the Clamp-On Adjustable Tub Rail is an adjustable rail that clamps to most tubs. The durable steel is easy to clean and makes baths for the elderly much safer. 
7. Handheld Shower Heads
Handheld showerheads can make it easier to wash a patient. For instance, caregivers can wash a patient's hair without getting water in the patient's eyes. Additionally, some handheld showers have a massage option that can help relieve stress and make the patient more comfortable.
The Deluxe Handheld Shower Massager with 3 Spray Options has an adjustable massaging head, an extra-long, tangle-free hose, and comes equipped with different spray options to make the patient more comfortable.
Purchase Your Bath Safety Items Today!
If you would like to purchase a product to help with bath safety for the elderly, you may be covered by Medicare or supplemental insurance. Medicare will cover 80% of the product if you qualify.
Amica Medical Supply has the largest selection of top-brand medical products in the industry. Their close relationship with manufacturers enables them to have the lowest prices and the best deals.
If you would like bath safety products for the elderly, shop at Amica Medical Supply or contact them for more information on their services!