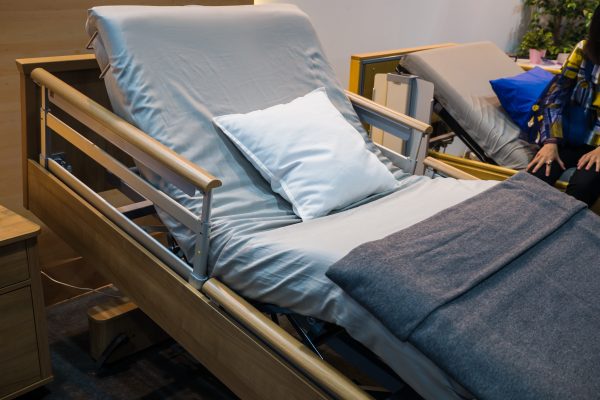 Hospital bed manufacturers developed many types of hospital beds to use at home to care for homebound patients. These devices provide support for the patient and the caregiver. For the patient, an in-home hospital bed offers comfort and the ability to change positions easily.
Raising and lowering the bed prevents the caregiver from injury as turning, lifting, and getting the patient out of bed can strain the back, knees, and other parts of the body.
Hospital beds may also include side rails, a trapeze, or the ability to lower the bed down to seven inches from the floor. Lowering the bed ensures the patient's safety, especially those confused or prone to falling out of bed.
If you are considering buying or renting a hospital bed, you will want to know the best hospital bed manufacturers in the industry. Take a look at them here before making your decision.
Top Hospital Bed Manufacturers

According to the Consumer Affairs Committee, the top hospital bed manufacturers are Drive Medical, Invacare, Medline, and Graham-Field. But other leading manufacturers are providing hospital-grade beds for the home.
Profiles of six top hospital bed manufacturers are listed below. Let's walk through them!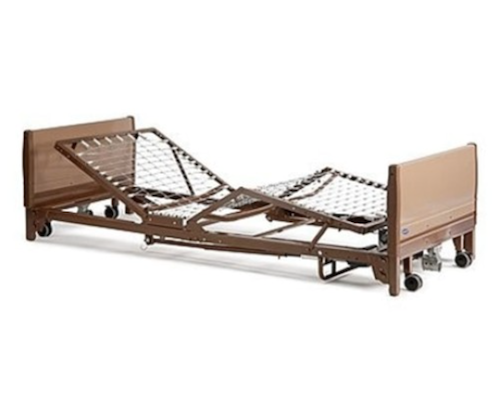 Invacare

Invacare makes an array of hospital beds for the home, including full electric, semi-electric, and manual beds. Invacare was founded in 1885 and started as a wheelchair manufacturer. Over the years, Invacare has expanded, providing medical products in over 80 countries.
Featured Home Hospital Bed: One of the best full electric beds is the Invacare Full-Electric Bed Model 5410IVC. It has three sections that move separately, elevating the head and feet. The bed can also be raised or lowered to help the patient and caregiver with care. The bed comes with optional side rails included in the cost.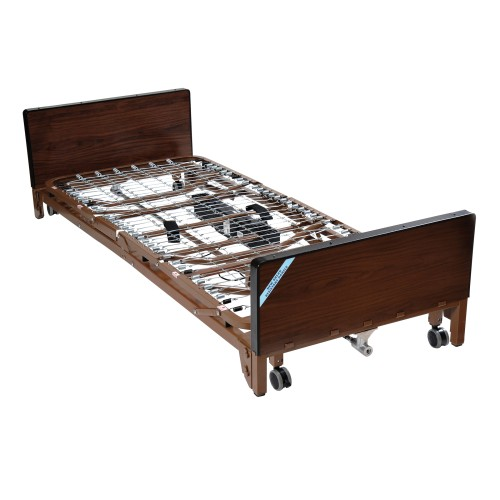 Drive Medical

Drive Medical, otherwise known as Drive DeVilbiss Healthcare, creates hospital beds with wonderful features. Founded in 2000, Drive Medical is known as one of the fastest-growing durable medical equipment companies.
Featured Home Hospital Bed: One of Drive's leading beds is the Ultra Light 1000. This best-selling bed comes with an easy-to-use control pendant and can support up to 450 pounds. The Ultra Light lowers to within seven inches of the floor. It also comes with three different mattresses and full or partial side rails. This electric bed keeps patients who are at risk of falling out of bed safe.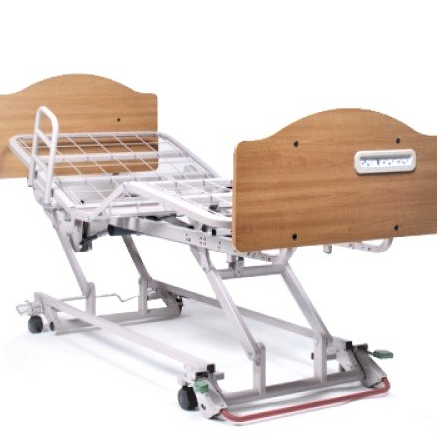 Graham-Field

Graham-Field produces an array of homecare beds to suit different needs. Graham-Field was founded in 1946 with a strategy to create products exclusively in the United States. Based on this plan, Graham-Field has established facilities in Georgia, Missouri, Wisconsin, North Carolina, and California.
Featured Home Hospital Bed: Their best hospital bed for the home is the Matrix II. It is fully electric and comes with side rails. The bed also has a control pad included in the footboard. Thanks to its sleek design, the Matrix II can fit seamlessly with any decor.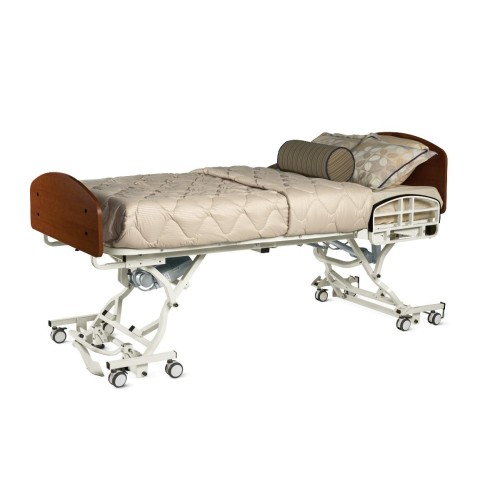 Medline

Medline is the largest medical supply manufacturer. Founded in 1910, Medline provides equipment and supplies to over 90 countries. They provide everything from syringes to hospital beds to improve the quality of care that patients receive.
Featured Home Hospital Bed: The Alterra 1385 Hi-Low Bed is one of Medline's best-sellers. It looks like a bed you would have in your home. The side rails are small and used by the patient to help themselves reposition in bed. The bed is made of three wood options, so you can select what best matches your decor.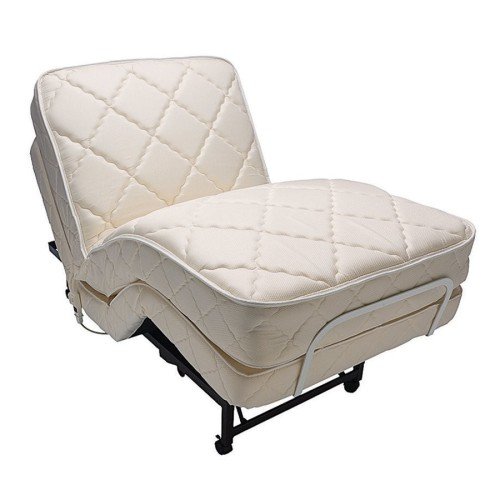 Flex-a-Bed

Flex-a-Bed is a hospital bed manufacturer that specializes in adjustable beds. Flex-a-Bed is unique because the company sells its beds with or without mattresses. Founded in 1969, Flex-a-Bed prides itself on the comfort of their beds. Some of their beds included a massage feature.
Featured Home Hospital Bed: The Flex-a-Bed Value Flex Bed, with its different dimensions, allows a spouse to stay in the same bed as the patient. Side rails come as an optional item. Flex-a-Beds come in various sizes ranging from twin to queen. It also comes in varying lengths to accommodate taller patients.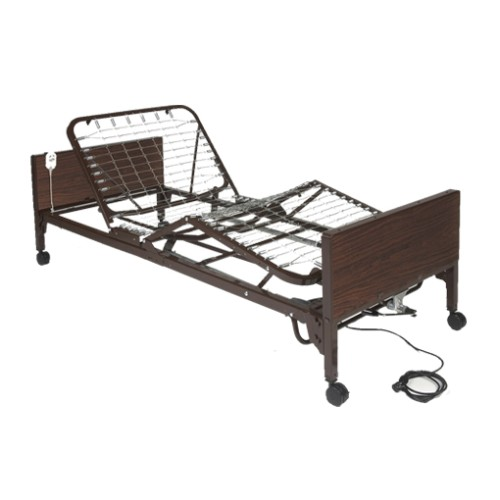 Medlite

Medlite is a division of Medline but deals specifically with durable medical equipment. They have over 20 million square feet of warehouse space and over 20 manufacturing sites in the US.
Featured Home Hospital Bed: The Medlite Semi-Electric Bed is a great option for those searching for a cost-efficient hospital bed. While it is a semi-electric bed, it can still electrically raise the bed's head and foot. If you need to raise the bed horizontally, there is a manual crank to accommodate most heights. The Medlite Semi-Electric Bed also has three mattress options.
Shop Top-Rated Hospital Beds at Amica Medical Supply

Amica Medical Supply is a durable medical equipment company that strives to provide excellent customer service. We carry high-quality hospital beds from the top manufacturers in the industry.
Amica Medical Supply is a participating Medicare provider and will help you understand how Medicare can help you obtain the right bed for your home. Getting a hospital bed from Amica Medical Supply allows patients to stay in the home they love.
Shop hospital beds today at Amica Medical Supply!