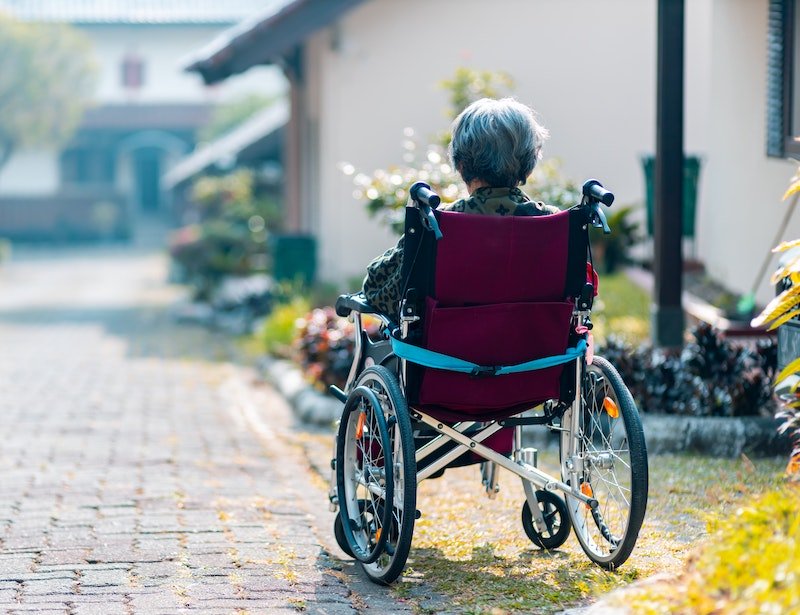 For those with mobility issues, a wheelchair provides a secure and reliable method of transportation. From sleek, modern wheelchairs to travel-friendly designs, there are wheelchair options that suit each lifestyle. 

But sitting in a wheelchair for long stretches of time can give rise to aches and pains. These signals of stress on the body indicate that changes must be made for the health and wellbeing of the wheelchair user.

Wheelchair users desire an enjoyable ride that is not hampered by discomfort in certain areas of the body. Fortunately, there are steps that you can take to create a comfortable wheelchair that makes riding more pleasant.

If you or a loved one is experiencing discomfort in a wheelchair, you've come to the right place! Read on to learn about tools and techniques that contribute to the most comfortable wheelchair experience.
Ways to make a wheelchair more comfortable
From top to bottom, here are some ways to create a comfortable wheelchair:

Explore Comfortable Wheelchair Cushions
First things first, consider incorporating a wheelchair cushion. Comfortable wheelchair cushions can make all the difference for those experiencing pain from sitting in a wheelchair. Not only does this addition help distribute weight more evenly, but it can also aid in improving posture. 

Having proper upright posture is key to reducing pain. In one instance, research revealed that proper postural health (i.e., good posture) is a key element in preventing and treating shoulder pain in those with limited mobility.

Certain cushions like the ROHO Harmony and ROHO Nexus have contoured bases. This feature encourages proper posture by guiding the location of the lower extremities to a proper seated position.

Pad the Armrests
When it comes to creating the most comfortable wheelchair possible, it's important to look at every part of the chair. In what ways can you make the wheelchair feel more relaxing? One small adjustment that can make a big difference is the addition of armrest padding.

Consider how much an individual in a wheelchair utilizes his or her arms throughout the day. Resting the arms on a hard, thin surface may cause discomfort. If a wheelchair has uncomfortable armrests, adding a plush cushion on either side is a simple way to move one step closer to the comfortable wheelchair possible.

Adjust the footrests
It may seem like an insignificant change, but shifting the position of your wheelchair footrests directly influences comfort level. If the knees are too high above the hips, added pressure is placed on the spine. This tension makes for the opposite of a comfortable wheelchair ride.

Instead, opt for a footrest position that allows the knees to be just slightly above the hips. It may take some time to find the setting that works best for you. Make sure you select a comfortable wheelchair that comes with adjustable footrests. The Karman T-2700 Transport Wheelchair is an example of a chair with adjustable, swing-away footrests.
Prevent back pain while using a wheelchair
A common issue among wheelchair users is back pain. This can be debilitating and prevent individuals from going about their day to day lives. If your wheelchair is causing back pain, consider making the following adjustments:
Integrate a Backrest
Comfortable wheelchair cushions are not just for the seat of your chair. Relieve pressure and add support with the addition of a backrest. Made of soft foam material, backrests offer an array of benefits. In fact, a study of elderly wheelchair users found that "lumbar support can maintain lumbar lordosis, thereby reducing stress on intervertebral discs." This reduction of pressure means less pain and promotes a healthy posture. 

For the most comfortable wheelchair, consider a backrest like the Jay Focus Point. It is built to allow for more range of motion "to increase visual orientation and improve digestion and respiratory function for clients with varying postures."
Jay backrests are designed to follow your body's natural curve. They provide support without limiting a user's range of motion.

Til-back for pressure release
Another way to reduce back pain caused by sitting in a wheelchair is a small adjustment. When a wheelchair is tilted too far forward, the back of the user may slouch forward. Being in this slightly folded position gives rise to back pain.

Make the simple change of tilting the wheelchair back by a few degrees to open up the seating position. This does not have to be a drastic change. Even a small change in tilt can bring about noticeable improvements. Tilt in space wheelchairs provide users with a wide range of reclining positions. Learn about the benefits of tilt in space wheelchairs to see how one could work for you. 
Find the most comfortable wheelchair for your needs
You now have lots of ideas about ways to improve the comfort level of a wheelchair. It's time to add some of these tools to your wheelchair and experience the difference they can make!

The ideal place to shop for a comfortable wheelchair and accessories is Amica Medical Supply. That's because Amica is committed to providing the highest quality medical equipment at the most affordable prices.

With a large range of top tier products and excellent customer service, Amica is here to support you in your search for the most comfortable wheelchair. Shop for wheelchairs, wheelchair cushions, backrests and more today!