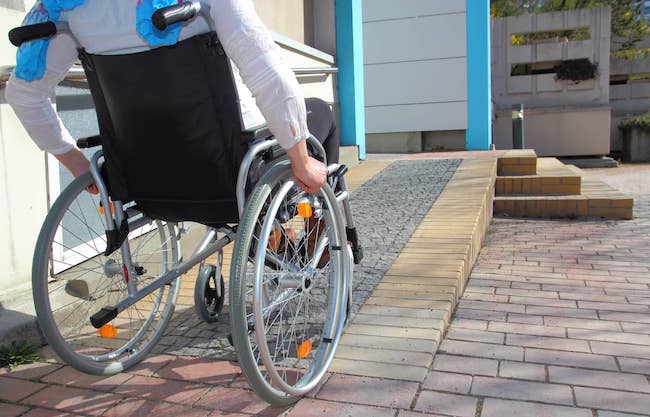 For those who want to make their businesses or homes more accessible, installing a wheelchair ramp is a great idea. With over 6.8 million Americans using assistive devices like wheelchairs, scooters, or canes, it is important to think about their mobility!

Of course, when it comes to ramps, there are many options to choose from. These options include: temporary ramps, permanent ramps, or portable ramps. Depending on your mobility and situation, we suggest different items. For the most part, portable ramps are a great way to ensure that you, a family member, or a patient is always able to move about their surroundings. To learn more about wheelchair ramp installation, keep reading!
What is a Portable Ramp?
Portable wheelchair ramps are essentially ramps that require no formal installation. In other words, no screws or bolts necessary! Instead, they arrive preassembled and simply need to be unfolded and placed in the desired spot. Because they can easily fold up, they can also be transported in the back of nearly any vehicle — which makes it perfect for on-the-go individuals.

Furthermore, these ramps are capable of supporting up to 600 lbs! Many individuals feel that because these ramps are not permanent structures, that they are not as safe as other options. But this isn't the case! Because they are made from premium metals like aluminum, they are lightweight to carry but extremely dependable.

Keep reading to learn more about the simple wheelchair ramp installation process and what you should know before installing your portable stair ramps.
What to Know Before Wheelchair Ramp Installation
Before you purchase and install your portable stair ramp, there are a few factors you should consider. We've outlined a few below for your convenience.
Ramp Placement
As you prepare to purchase your wheelchair ramp, you'll want to know where you'll be using it. Is there a particular door that you always enter? Is the area clear enough to properly use the wheelchair ramp without obstructions? Will the door be wide enough for easy movement? These questions will help you determine the best placement for your wheelchair ramp.
Ramp Size
Once you know where you'll be using the ramp, you can calculate the proper height, width, and length that you'll need. Review the safety features of all your options and ensure that the ramp you select is the best fit for you. If you'll be traveling often, you'll also want one that has a quick and easy wheelchair ramp installation process.
Ramp Material
There are a variety of wheelchair ramps available in all different materials. Aluminum or steel are often used for portable stair ramps as they are easier to install. The heavier the material of your ramp, the harder it will be to install and carry around.
Weather Impact
If you'll be using your wheelchair ramp outside frequently, you'll also need to consider the impact weather will have on your device. Steel ramps are more likely to rust in rain or snow, so if you live in a location with inclement weather, you may want to choose a different style. Extreme heat may also be an issue if your ramp is made of a material that heats up quickly. You won't want to burn your hands trying to fold your ramp back up.
Maintenance
The final factor to keep in mind is maintenance. The frequency you use your ramp will play a large part in how often you may need repairs. Some manufacturers may offer regular maintenance or extended warrants depending on use levels, materials, and more. Factor these maintenance needs into your budget when purchasing your wheelchair ramp.

We'll cover the best wheelchair ramp safety tips to abide by once you've purchased your ramp.
Wheelchair Ramp Safety Precautions
Safety is a top priority when using a wheelchair ramp. Before you begin using your ramp, there are a few best practices to follow for safe use every time.

Check surroundings. Make sure there are no obstructions in the way that may tip your ramp or catch on your wheelchair. Clear the area of any potential obstacles before moving.
Use safety features. If your wheelchair comes equipped with a seat belt or anti-tip wheels, double-check that they are firmly in place before using your ramp.
Center yourself. To avoid any accidental tips or falls, center your wheelchair right in the middle of the ramp. Being too far to one side may cause your ramp to tip.
Go slow. There's no rush to get where you need to go. Take your time and go slow to monitor for unstable movement or to avoid sliding back down the ramp.
Now that you know how to safely use your wheelchair ramp, it's time to learn how to properly use it.
How Do I Use a Portable Ramp?
Portable ramps are extremely user-friendly! Wheelchair ramp installation can be completed in just four easy steps.

The first step one should take is to position the ramp correctly! Depending on the length of your ramp, you should place it a similar length away from the step you are trying to cover.
Next, place the ramp upward with the open end down and undo whatever locking mechanism is in place.
Then, unfold the first end of the ramp which has the main hook. It is important to ensure that this hook is firmly placed against the edge of the first step to stabilize the ramp!
After that, extend the ramp's width if it has that feature. Ta-da! You have successfully installed your portable ramp.
If it sounds too easy to be true, we have some news for you. It really is that easy. If you prefer a video tutorial to show you in greater depth, click here!

All in all, a wheelchair ramp is a great investment for anyone! It is an easy way to make your business or home more accessible and put a smile on people's faces. With wheelchair ramp installation that takes less than 5 minutes, portable ramps are a great tool. Moreover, their ability to fold up and go wherever you need them to is an added plus.
What is the Proper Slope for a Wheelchair Ramp?
To ensure a seamless wheelchair ramp installation process, you'll need to ensure you use the proper slope. However, with portable stair ramps, there is not one set proper slope. It will depend greatly on where you are using the slope.

The easiest way to calculate the proper slope for your wheelchair ramp installation is to divide the length of the ramp by the height. This will give you the right ratio to create for your slope. No matter what number you get, the first number in your ratio should always be 1. For example, a slope that is 6 feet long with a rise of 2 feet, you'll use a ratio of 1:3.

Ready to get started with your wheelchair ramp? Shop a few quality choices below.

Check Out These Awesome Ramps To Choose From
This ramp is a great option for those who are on the go. Complete with a carrying bag, this ramp folds up quickly and neatly and can fit in almost any vehicle. It also has perforated slots to keep water from collecting on ramp- a major safety issue. Not to mention this small device is capable of supporting 600 lbs!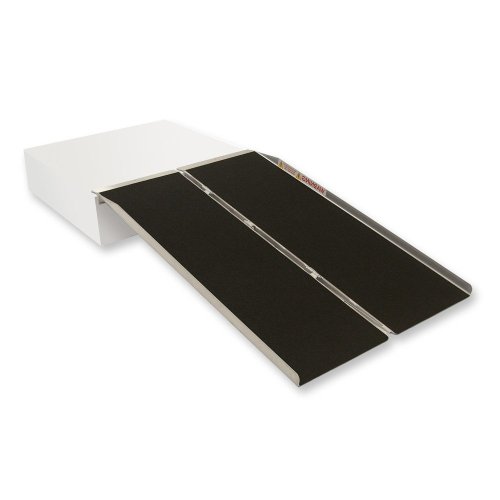 From the leader in powered mobility auto lifts comes a world-class series of portable ramps designed for ease of use at home or while traveling. These commercial quality ramps are built to traverse steps, curbs and other unkind elevation changes.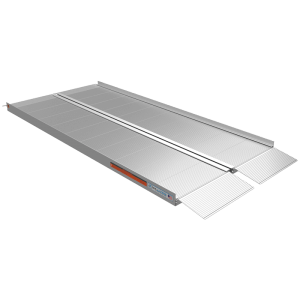 This portable ramp, with its single-fold design, sets up quickly and is ideal for scooters and wheelchairs. These quality ramps can easily navigate over traverse steps, curbs, and other elevation changes using a slip-resistant tread.
Find the Right Wheelchair Ramp with Amica
At Amica Medical Supply, we have access to the leading wheelchair ramps. Our strong working relationships with manufacturers provide us with an array of top-quality ramps and other medical devices around. We're equipped to meet all of our patients' needs and ensure that you receive the durable, long-lasting equipment you need.

Contact us online or call us today at 1-888-939-0774 to learn more about our wheelchair ramps and how to safely install them!