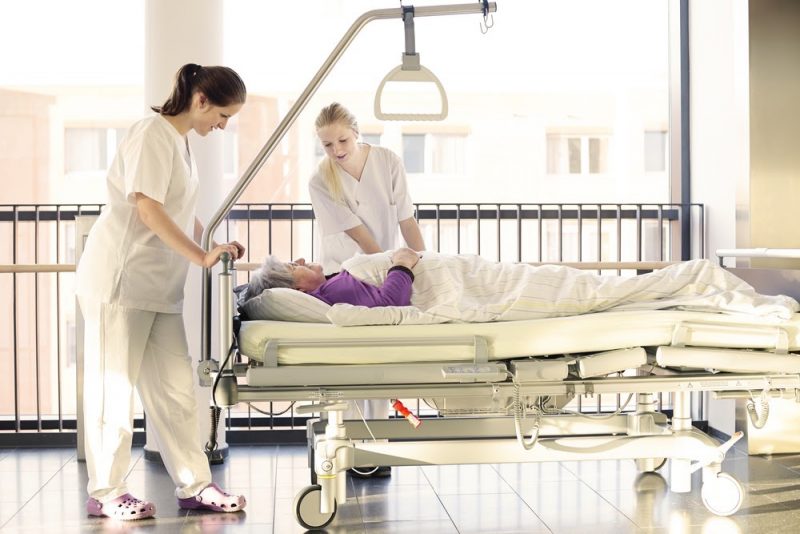 Patient lifts are an integral component of safe hospital and homecare transfers. A patient lift device protects both the patient and caregiver from injury. In addition, it can give both parties the confidence to make a transfer securely.
With that said, the patient lift manufacturer may greatly impact the quality of the lift, whether you need a patient lift for home care, hospital, or otherwise.
For this reason, we've compiled a list of the six most popular patient lift manufacturers and compared their price ranges, quality of products, and overall popularity to determine which are the best.
In the end, though, you need to find a lift that works for your unique needs and fits within your budget. So, check out the information below to find the right lift for you!
Comparing the Pros and Cons of Patient Lift Manufacturers
Hoyer
Price
Electric Hoyer lifts range anywhere from $2,000 for residential and $12,500 for facility grade lifts. The manual lifts are much cheaper, costing $900-$1,400. Hoyer heavy-duty lifts can cost anywhere between $6,000 and $12,500. They even manufacture ADA-compliant pool lifts that cost about $1,000.
Quality
Quality is the hallmark of all Hoyer medical devices. Hoyer is well known in the medical field as one of the highest-quality manufacturers in the market. Hoyer lifts are long-lasting, sturdy, and high-tech. If you require a top quality patient lift for your facility
Pros vs. Cons
As mentioned, Hoyer patient lifts are some of the best on the market. However, they are also some of the most expensive lifts. If you are willing to pay the price, however, Hoyer is known to produce the best quality patient lifts. There is also a diverse variety of Hoyer lifts to choose from.
Bestcare
Price
Bestcare patient lifts are moderately priced. Generally, their electric lifts range anywhere between $1,000 to $2,000. On the other hand, Bestcare manual lifts come cheaper, costing about $700. Heavy-duty lifts cost anywhere between $1,200 and $2,600.
Quality
Bestcare is one of the most well-known patient lift manufacturers. Generally, these lifts are known for being quality products that are easy to use and sturdy.
Pros vs. Cons
Bestcare has a wide variety of lifts to choose from with many affordable options. In fact, their stand-up manual lifts come as cheap as $625. When you purchase a more expensive Bestcare lift, you pay for more amenities and a higher quality product. In the end, while some lifts tend to be more expensive than others, they are generally moderately priced.
Invacare
Price
Invacare electric patient lifts cost between $2,000 and $3,000. On the other hand, their manual lifts are low priced, typically priced between $460 and $1,100. The Reliant Plus 600 Heavy Duty Electric Patient Lift is their only heavy-duty lift available and is their highest-priced item at $3,160.
Quality
Like Hoyer, Invacare produces high-quality patient lifts facility grade patient lifts. These lifts are made with ease of use and reliability in mind, so patients and caregivers can both be safe and comfortable during transfers.
Pros vs. Cons
On average, Invacare lifts are slightly more expensive than Bestcare and cost slightly less than Drive Medical. Their lifts are fairly priced with strong, notable features that make it an ideal option for light facility and residential use.
Drive Medical
Price
Drive Medical Electric lifts cost between $1,800-$2,900, while Heavy Duty patient lifts cost nearly $3,000. While Drive Medical doesn't manufacture manual lifts, they do have a bath lift that costs $565.
Quality
Drive Medical is, on average, a bit more expensive than Bestcare. In addition, Drive Medical does not produce as many patient lifts. That being said, Drive Medical does have good quality residential patient lifts. With modern appliances and easy-to-use mechanics, Drive Medical is a quality manufacturer to consider.
Pros vs. Cons
As mentioned, Drive Medical is more expensive, costing nearly $1,000 more than Bestcare lifts. However, Drive Medical also has good quality patient lifts. Generally, more expensive lifts have a higher weight limit and/or come equipped with more notable features.
Lumex
Price
Lumex electric lifts cost about $1,600, while the manual lifts only cost about $550 on average. The heavy-duty patient lifts cost $2,356. They also produce a bath lift that costs $572.
Quality
Trusted widely by healthcare professionals and end-users, Lumex produces patient aides with the user in mind. Patient lifts and devices are designed for efficiency ease of use.
Pros vs. Cons
Compared to other manufacturers, Lumex is more cost-effective. This is a great option for those who don't want to spend too much on a patient lift. However, the lifts themselves are very basic. They will get the job done well, no doubt, but won't have all the amenities of a Hoyer lift, for instance. In addition, options are limited to seven models—one electric, three manual, two heavy-duty, and one bath lift.
Medline
Price
Medline electric lifts can cost anywhere between $1,600 and $7,400, whereas the manual lift costs $625. Also, their heavy-duty patient lift costs $2,725.
Quality
Medline is a popular, privately-owned American healthcare manufacturer. It is the largest privately-held manufacturer of medical supplies with offices in 20 countries. Medline's mission is to provide high-quality medical products for superior value. As a result, Medline is highly-regarded for its comfortable, user-friendly medical devices.
Pros vs. Cons
While some electric lifts are pricier than others, Medline also has some affordable lifts. Nonetheless, you get what you pay for, and Medline is amongst the best.
Find the Right Lift for You!
After comparing the pros and cons of patient lift manufacturers, we've ranked the manufacturer's quality. Here are the top six manufacturers ranked in order of best value:
Bestcare
Hoyer/Joerns
Invacare
Lumex
Drive Medical
Medline
To shop patient lifts by any one of these manufacturers, visit Amica Medical Supply. Amica has the largest online selection of medical products, so you are sure to find the perfect patient lift that suits your wish list and price range.
To learn more about Amica's products, visit their store, or contact them for more information!