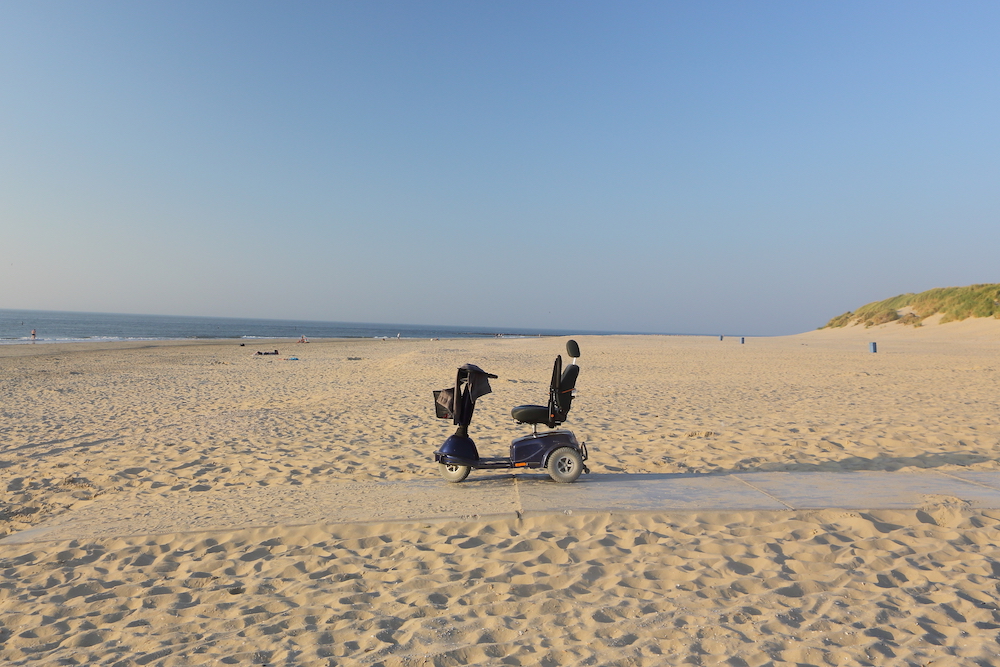 What Bariatric Patients Should Look For in a Mobility Scooter
Mobility is one of the most important things when it comes to finding the right scooter. If you want to be able to lead a fulfilling and independent daily lifestyle, then it can help you immensely to be able to get from point A to point B all by yourself. If you're a bariatric patient who weighs in excess of 400 pounds, then the assistance of a top-tier mobility scooter may be invaluable to you.
Heavy duty scooters tend to be equipped with all sorts of highlights that make them simple to employ daily, too. If you want to invest in the right heavy duty scooter for your weight, lifestyle and general mobility requirements, then you should search for one that has an ergonomic layout and four wheels total.
Ergonomic layouts can make scooters a lot more dependable and steady for users. Seats that are adjustable are essential as well. These kinds of seats have the ability to cater to many diverse body forms.
If you're interested in a scooter that minimizes the discomfort of joint tension and pressure, then the adjustable route is without a doubt the way to go. Bariatric patients who are passionate about maximum ease need to approach their scooter searches with pure diligence and care.
Try to Find a Scooter that Promotes Optimal Safety
Safety is paramount. If you want to invest in a heavy-duty scooter that can enhance your day-to-day existence, then you need to prioritize safety above all else. In our opinion, you should research mobility scooters that are produced by brands that are licensed and that have outstanding reputations.
It isn't only crucial to concentrate on safety. You also need to make ease of use a prominent factor. Don't waste your time on a scooter that feels awkward.
If you can feel 100 percent relaxed on a scooter, that's without a doubt a great sign. Narrow your options down to scooters that match your individual size wishes.
Think about your residence as well. You would be doing yourself a favor to invest in a scooter that collapses. If you get one from this category, you can conserve a lot of room. Folding options can come in handy for bariatric patients who reside in apartments and in similarly compact areas.
Make Distance a Component
Think in general about your daily movement requirements. How far do you usually have to go? It's imperative to search for a scooter that can manage your distance objectives day in and day out.
Don't forget to think about fueling and charging, either. Try to secure a mobility scooter that promotes hassle-free refueling and recharging any time the need comes up.
Do You Need a Basket?
Shopping may be a big part of your daily routine. If it is, then you may want to find a scooter that's equipped with a basket that's directly attached to the front.
This can be amazing for managing belongings. If you want further details about mobility scooters for bariatric patients, contact the staff at Amica Medical Supply Company now.
We supply a range of high-quality mobility scooters for bariatric patients. Here are some of our recommended products: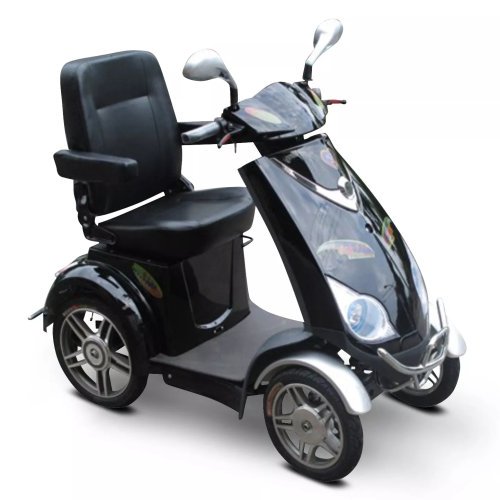 The EWheels EW-72 Mobility Scooter is a high powered and exceptionally well-built 4 wheeled scooter designed to provide a much greater top speed and range than any other scooter device on the market. Feature packed with all the luxuries of a high-end motor vehicle, this high-octane electric scooter can travel up to 15 miles per hour and has a range up to 43 miles! No other mobility scooters on the market compare to the EW-72 in control, capacity or conveniences.
Drive Medical's Spitfire Scout 4 travel scooter is perfect for those mobility vehicle users who are consistently on the go. With ergonomic tiller positioning and four-wheel stability, the Scout 4-Wheel gives the user with limited dexterity and strength the ability to travel outdoors with greater control. Safety features such as the anti-tip wheels, flat-free tires and a rear reflector for better visibility provide you the assurance everything was taken into account in the design of the Spitfire Scout.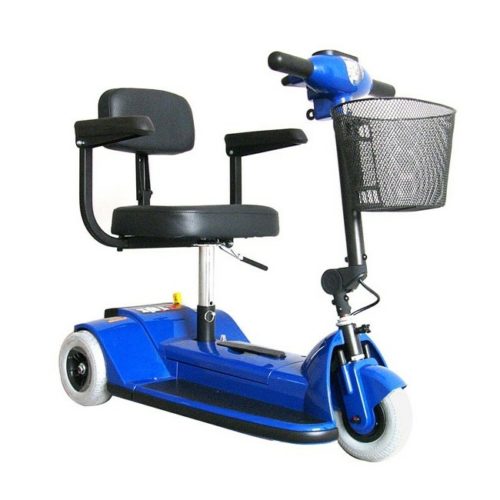 The Zip'r 3-Wheel Scooter from Zip'r Mobility is one of the most affordable full-featured scooters we sell with all of the features that you would look for in a travel scooter. Its standard features include flat-free tires, a padded folding seat with flip-back armrests, headlight and front basket. Transportability is a plus with the Zip'r 3. Disassembly is easy because there are no wires or cables to disconnect. One unique feature of this scooter is its floorboard design. Most scooters curve up or become extremely narrow near the front wheel.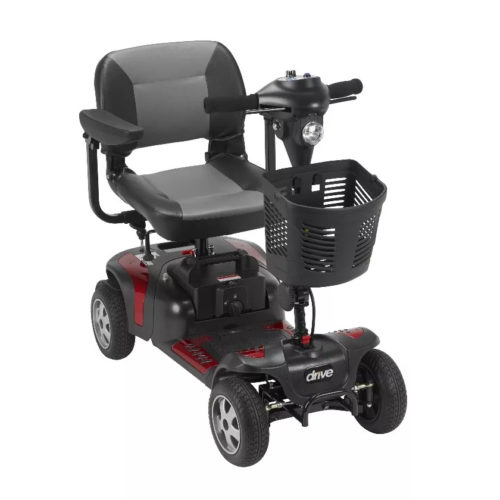 The Phoenix HD 4-wheel travel scooter combines the ability to navigate rough terrain and outdoor environments with the portability of a travel style of the scooter. The four-wheel design and anti-tip wheels assist with overall stability for a more secure experience. This scooter also has a height adjustable seat with flip back, adjustable width arms to accommodate varying body types. The seat also helps with portability by folding flat and allowing for easier transporting or storage. Your Phoenix HD 4 wheel scooter can easily and quickly disassemble into four pieces, with the heaviest section weighing only 46 lbs.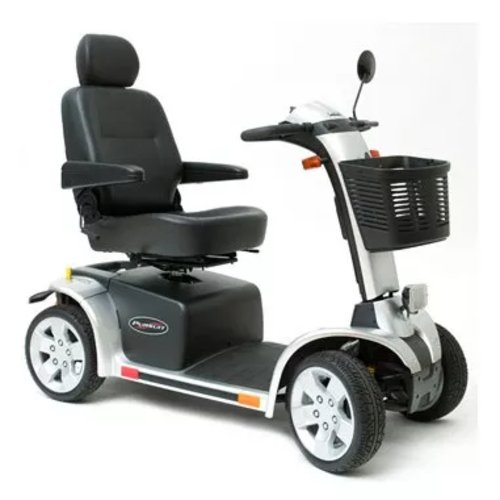 The Pursuit is the perfect sport scooter for those who enjoy the great outdoors. If you find yourself out at night, the Pursuit offers a lighting package that will help guide the way. It also comes fully equipped with directional lights for added security. Comfort and durability combine to make this scooter top-of-the-line. The sporty look and perfect balance structure will allow users to maximize its uses.