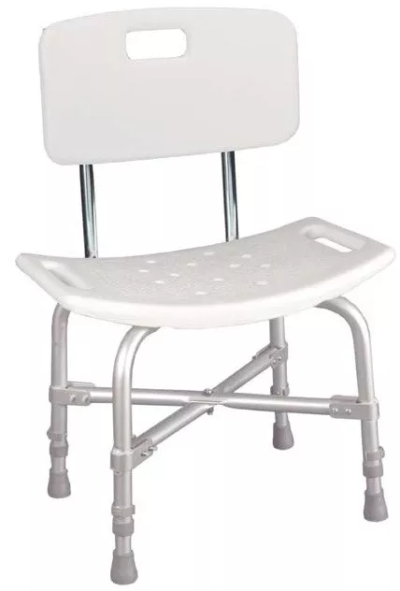 For many bariatric patients, it is simply too difficult to stand for extended periods of time. Therefore, it can be extremely helpful to purchase a bariatric shower chair. These chairs make showering comfortable and easy for heavier patients with limited mobility. However, there are many things to consider before purchasing one.
Continue reading to learn what you should know before buying a bariatric shower chair.
What To Look For Before Purchasing a Bariatric Shower Chair
1. Weight Limit
Most shower chairs have a considerable weight limit—some up to 400 pounds, such as the Deluxe Aluminum Bath Chair. Therefore, it's important to know how sturdy your chair needs to be. Some bariatric chairs can hold up to 700 pounds, but those may be more expensive. First, identify the weight limit you need, then shop for chairs that support the amount of weight you need.
The Deluxe Bariatric Bench is a great affordable option, only costing $69.50. This chair supports up to 500 pounds of weight, making it a viable option for most bariatric patients.
2. Height
It's important to know how high you need your shower chair to be. For example, shorter patients might need a shorter chair, while tall patients will need it higher. Otherwise, it may be uncomfortable if a patient has to bend too low to sit down and exert too much effort to stand up. On the other hand, a seat that is too high may be uncomfortable for patients who can't touch the floor.
That being said, bariatric shower chairs with adjustable height are the best option. The Deluxe Bariatric Bench mentioned above, for example, can be 19.5" tall at its highest point, while lowering to 14" at its lowest. Adjustable height makes it a good option for the majority of patients. If you are considering buying a chair that isn't adjustable, make sure it is at a reasonable height for you or your patient.
3. Width
Most bariatric chairs have a seat width of 20" to 30". If you or your patients need a wider chair, make sure the bariatric chair you are shopping for meets your minimum standard. Additionally, consider whether or not you want armrests on your chair. Armrests might give you more room to move around if the chair width is not wide enough for comfort.
The Deluxe Bariatric Bench is 20" in width. However, some bariatric chairs can extend farther.
4. Chair Size
Most shower chairs are made to fit the typical shower size. However, some showers and baths are smaller than average. Moreover, some showers have the capacity to fit larger chairs, while others will need a more conservative design. Measure your shower and make sure the chair dimensions fit comfortably in it.
5. Design
Lastly, there are a few things to consider about the design of your bariatric shower chair. For example, how mobile do you want your shower chair? Some models have wheels that make it easy to transfer patients in and out of the shower. These chairs have locking casters that prevent the chair from moving while in the shower.
Other chairs, however, simply have safe-grip feet that keep the chair from moving around in the shower. These chairs, however, must be lifted in and out of the shower to be removed. That being said, consider the weight of the chair you wish to buy. The Deluxe Bariatric Bath Bench, for example, only weighs six pounds, making it easy to transport.
Lastly, some shower chairs have no back support, others have fixed support, while some have the ability to lean back. If you need recumbent features for your chair, consider paying the extra amount for a chair with that design feature. However, the majority of shower chairs have a fixed back that allows a patient to sit comfortably without reclining.
Shop for Your Bariatric Shower Chair Today!
Now that you know what to look for before buying a bariatric shower chair, it's time to start shopping for the right chair for you! Amica Medical Supply offers affordable bariatric shower chairs that make it easier than ever to take a comfortable shower. Contact them today for more information!