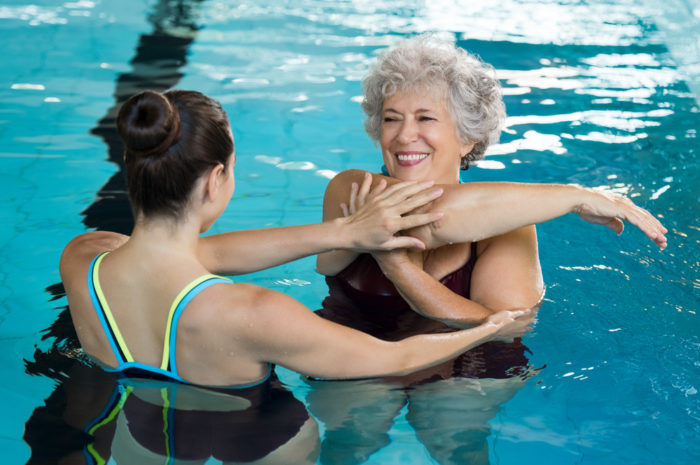 Swimming has many benefits. It helps people relax, exercise, undergo therapy, or even just have fun. Luckily, there is aquatic therapy equipment that helps individuals get in and out of the water as well as exercise comfortably in the water.
These equipment pieces are a must-have for any public pool. For example, rehab centers can easily help patients undergo therapy and gyms can make it easier for disabled and/or handicapped individuals to swim with everyone else. Keep reading to find the best aquatic therapy equipment for swimming!
Make Swimming Fun With Aquatic Therapy Equipment!
Mobile Aquatic Chair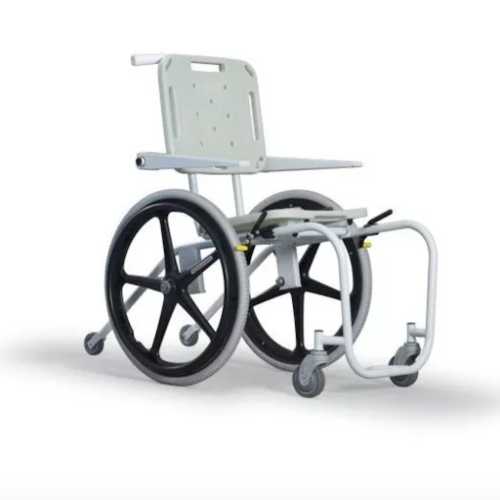 Pool facilities that have a ramp, zero-depth entry or moveable floor need mobile aquatic chairs to stabilize patients and transport them in and out of the water.
>> You can shop for aquatic wheelchairs here.
One of the leading Mobile Aquatic Chairs, however, is by SR Smith. This chair can support up to 300 pounds and has a stainless steel frame to prevent corrosion over time.
Another great option is the Stainless Steel Aquatic Wheelchair by Aqua Creek. This sturdy chair can support up to 600 pounds and an expandable chair width.
Moreover, it's collapsible for easy storage. Last but not least, the Aqua Creek Pool Access Chair is a more affordable option as it's made of plastic and stainless steel. It can support up to 425 pounds.
Pool Lift
If your pool does not have a ramp to lead patients into the pool, a pool lift may be a better option. Pool lifts essentially are seats that lower individuals in the pool and raise them out again. The American Disabilities Act (ADA) requires that all public pools must have a pool lift. Therefore, it's important that when purchasing a pool lift, you make sure it is ADA compliant.
>> You can shop for ADA compliant pool lifts here.
Moreover, this comprehensive guide can help you choose the right ADA compliant lift for your pool.
Cycle Attachment
One cool thing about pool lifts is you can buy cycle attachments for them. Essentially, this attachment quickly converts your lift into a pool therapy bike. This is a great option for patients who have a hard time getting in and out of the chair once in the water because they can enjoy hydrotherapy without ever leaving the chair!
One of the best options for purchase is the Aqua Creek Cycle Attachment. It only weighs 20 pounds and can be easily attached to any pool lift.
Pool Bike
Pool bikes are great for low-impact physical therapy. Therefore, they are a must-have for any rehab facility and a great addition to gyms.
One of the best options for purchase is the Tidal Pool Bike. This bike comes in two options: with a sport seat or with a recumbent seat. Both versions have a unique flywheel and folding V-frame design, multiple resistance levels, and adjustable parts. The sport seat is similar to that of a typical bicycle. The recumbent seat option, on the other hand, has a backrest and seat handles for added support and security in rehabilitation.
Swimming Training Platform
Swimming training platforms are great options for individuals who are taking swimming lessons and/or are doing aquatic therapy and exercise. It can be used as a seat for adults or children, as a safe, shallow place at the deeper end of a pool, or even as a platform to stand on during therapy or exercise.
One of the best training platforms out there is the Aqua Creek Swim Training Platform. It has a 300-pound weight capacity, a grated decking platform to prevent slips, and adjustable height legs.
Buy Your Aquatic Therapy Equipment Today!
Now that you are familiar with all your options for aquatic therapy equipment, you are ready to start shopping! Amica Medical Supply can provide you with the medical equipment you need at an affordable price! Contact them today for more information!