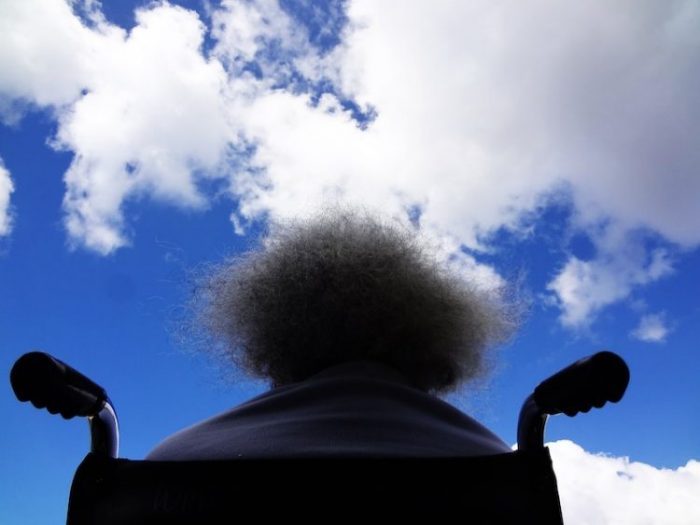 A reliable wheelchair can make a world of difference for someone looking for assistance getting around. Mobility limitations can lead to negative health outcomes, a higher risk of falling and poor psychological health. In light of this, finding the right wheelchairs to increase mobility and improve quality of life is essential.
These days, there are many different types of wheelchairs available. Many wheelchairs have a maximum capacity of around 250 pounds, so they may not work for all individuals. However, bariatric wheelchairs are designed specifically to support a weight greater than 250 pounds.
Read more to learn about the best bariatric wheelchairs!
Top Bariatric Wheelchairs
1. Drive Medical Sentra HD700
With a carbon steel frame, reinforced steel gussets and heavy-duty gauge upholstery, the Drive Medical Sentra HD700 is built for bariatric use. It has a 700-pound weight capacity and is available in 3 seat widths ranging from 26" to 30" with detachable armrests and swing-away leg rests.
Price: $875
To learn more about the Drive Medical Sentra HD700, check out Amica Medical Supply!
2. Invacare 9000 Topaz
For a customizable bariatric wheelchair with a 700-pound weight limit, you need to see the Invacare 9000 Topaz. Choose between five seat sizes, four armrest types, three seat cushion types and two leg rest types. This chair brings customizability and comfort to you.
Price: $999.95
To customize your Invacare 9000 Topaz, contact Amica Medical Supply today!
3. Karman-8520 Heavy Duty
Who says bariatric wheelchairs need to be black? The Karman-8520 Heavy Duty is available in red or blue and is a cost-effective bariatric wheelchair option. With a handy pouch on the backrest, your items will never be out of reach. Plus, the reinforced dual cross brace steel frame and 12" flat-free rear wheels allow this chair to support up to 450 pounds.

Price: $198
Contact Amica Medical Supply now to learn more about the Karman-8520 Heavy Duty!
4. Invacare Tracer IV
With plenty of customizable features, you can make the Tracer IV into exactly the bariatric wheelchair you need. The triple chrome-plated, carbon steel frame is both durable and low-maintenance, ideal for active individuals. Heavy-duty inner liners add to the durability of this wheelchair by preventing the seat and back from stretching. On top of this, it comes in a 350-pound or 450-pound weight capacity.
Price: $350
To create the perfect Invacare Tracer IV, visit Amica Medical supply now!
5. Sentra HD450
If you want a heavy-duty wheelchair that's built to last, take a look at the Sentra HD450. Dual cross braces, reinforced gussets and heavy-duty flat-free casters make this an extremely durable option. The reinforced upholstery provides support and comfort without sagging over time. This bariatric wheelchair features a 450-pound weight capacity.
Price: $379
Learn more about the Sentra HD450 by contacting Amica Medical Supply today!
6. Sentra HD500
With heavy-duty flat-free casters, reinforced upholstery, and a 500-pound weight capacity, the Sentra HD500 is built to last. The composite Mag-style wheels with chrome hand rims are maintenance-free, while precision-sealed wheel bearings provide reliable, long-lasting performance. Choose between elevating leg rests with tool-free adjustable-length riggings or swing-away footrests to best suit the patient's needs.
Price: $439
Is the Sentra HD500 best for your needs? Visit Amica Medical Supply to learn more!
7. KM-8520 Heavy Duty
The KM-8520 Heavy Duty bariatric wheelchair weighs only 35 pounds and is the world's lightest 20" wheelchair. The backrest and seat fold, making this model extremely portable. It has a 350-pound weight capacity, high-grade flame retardant upholstery and high-strength 6061 T-6 Aircraft-grade aluminum. Anodized wheel rims prevent static buildup, while adjustable-length anti-slip footplates and adjustable toggle wheel locks enhance the overall safety.
Price: $898
To learn if the KM-8520 Heavy Duty fits your needs, contact Amica Medical Supply today!
Find Your Bariatric Wheelchair at Amica Medical Supply
The right wheelchair enhances the user's day-to-day life, solving mobility challenges in a comfortable manner. Amica Medical Supply has an excellent selection of bariatric wheelchairs, so you're sure to find one that perfectly suits your needs.
If you want to find the right bariatric wheelchair at a great price, Amica Medical Supply has a large selection, excellent customer service, and low prices. Contact us today for help picking the perfect wheelchair.