For residential customers, electric wheelchairs continue to be in high demand, and that is not surprising as they have some significant advantages over manual ones. An electric wheelchair is battery powered which eliminates the physical exertion needed to get around. Also, their upholstery and seating frame are generally designed for maximum comfort. For those reasons and these here below, the electric wheelchair continues to rise in popularity and interest.
Freedom of Movement
Manual chairs require a significant amount of physical strength from the user to move around, not only to propel them forward but to stop as well. Difficult terrains, steep ramps, and more can limit where and how far one can go.
Electric wheelchairs allow the user the freedom to move around from place to place and overcome obstacles that come across without any assistance, and that proves to be a commodity too good to pass up.
Easing the Pressure
Besides the comfort already mentioned in the seats, an electric wheelchair will usually feature a reclining and tilting option that can help relieve the pressure of constant sitting.
additionally, different drivetrains in electric wheelchairs help the user navigate the terrains most frequently traveled across, i.e., grass, concrete, etc.
Providing one's self with maximum comfort seems like a sound plan every time, and this is why electric wheelchairs remain on demand.
Customized Services
Many of the drawbacks of electric chairs such as their usual inability to collapse for transportation are now available. Custom electric wheelchairs can be made to fold for easy storage.
Other features can be adapted into the mobile vehicle to increase its comfort and performance. Electric chairs are growing in popularity due to their versatility in customization.
Adaptability to Disability
Electric wheelchairs can be adapted into any condition regardless of severity. For individuals who only have control of even the most basic functions, these beautiful machines can provide a level of freedom that forty or fifty years ago may have seemed unthinkable.
The user can operate electric wheelchairs via their fingers and even just their mouth, which is something that cannot be said of manual wheelchairs. The possibilities for adaptability in electric wheelchairs are endless, and this is a significant reason for their high demand.
On and On and On
The most significant advantage of electric wheelchairs is, of course, their ability to travel vast distances without taking a toll on the user. So long as the battery is charged the user can move at will to any location.
From the room to the front porch, from the park to a favorite cafe, there are little users cannot do and few places where they cannot go, and those are perks that manual wheelchairs cannot claim.
The Verdict
As you can see electric wheelchairs continue to gain ground on manual wheelchairs each day, and it is because of their increased versatility and reliability to perform under the toughest of conditions.
Durable and packed with features these machines continue to impress. The future is bright for the electrically powered wheelchair models so do not be surprised to see them eventually win the race to the top.
Here are some of our recommended electric wheelchairs: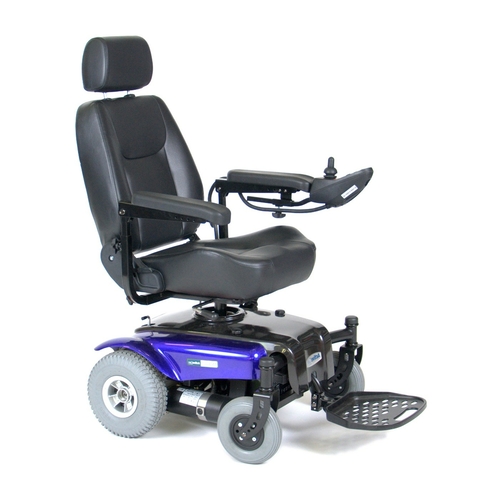 The Medalist sports new, modern styling and 350-pound weight capacity. It's practicality and comfort with style! The Medalist makes handling daily mobility activities a breeze thanks to its tight turning radius and an overall width that fits into narrow spaces. The adjustable position controller lets you place it where it's most comfortable for you. And the deluxe Captain's Seat features an adjustable angle backrest, flip-up armrests, a swivel seat and is available in 18" and 20" widths.
The Trident Front Wheel Drive Power Chair offers a durable and reliable performance chair all in one. The power chair comes with adjustable height, width, and angle, padded arms allowing for more customization options that conform to the specific user as well as a semi-reclining back with a headrest for maximum comfort and support.
The Drive Cirrus Plus power wheelchair is a great wheelchair at an even better price. It has all the options you would expect in a more expensive transportable power wheelchair including an attractive silver vein finish, swing-away footrests, height-adjustable armrests and a cushion at a price that can't be beaten. The Cirrus Plus also features adjustable tension back upholstery and a programmable PG controller.
The Tranzit Go is made up of the best raw materials and components which creates a truly lightweight wheelchair. This power wheelchair is functional and features a standard 12-mile driving range ( optional 25 miles)  You can remove the lithium-ion batteries since they are lightweight. This also helps with easy transporting the wheelchair.
The Intrepid™ comes fully loaded, complete with the unique QuadraSpring suspension as well as a set of removable armrests that are height, width, and angle adjustable. A seat belt and seat back storage pouch also come standard for the user's comfort and safety and the swivel Captain's seat is height adjustable, offering users 25° of recline.