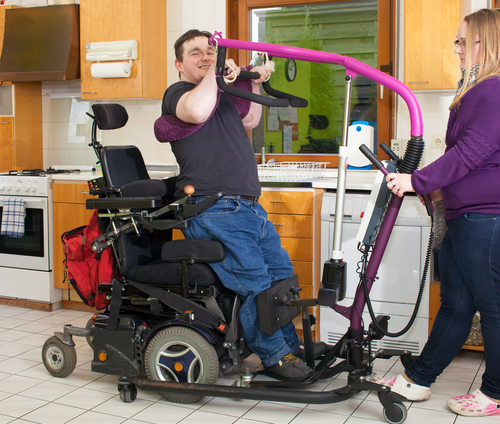 For students who suffer from mobility issues of varying severity having the right patient lift at school can make a huge difference. Finding the best option depends on several variables that we will discuss here in the hopes of helping you make an informed decision. Here are some things to consider when seeking out a patient lift for your school.
Types of Patient Lifts
There are a few kinds of patient lifts: Total Assist, Moderate Assist, and Lateral Transfer. Sling lifts and sit-to-stand lifts—the latter for students who still have some mobility—can fall under the first two categories and are typically standard in schools.
Sling lifts are generally recommended as they accommodate different degrees of disability and as new students arrive each year you want to be prepared for anything and everything.
The second choice you must make is between either an electric or hydraulic patient lift (manual) patient lift. The electric patient lift is often favored in school settings to avoid unhealthy manual lifting practices that can result in injury both to the patient and the caretaker.
To prevent complications take a look at some popular electric patient lift options that can make a big difference.
Weight and Maneuverability
Having a patient lift that is sturdy yet at the same time light and easy to move is vital for school settings. The wheels on the patient lift allow for maximum maneuverability and many models today are compact enough to be stored away easily.
You will want to keep your eye out for lifts roughly of a weight of 127 pounds or less; they will make things more comfortable in the long run.
Portability is everything as the machine will likely be moved from classroom to classroom to accommodate the patient's schedule.
Right for Them Is Right for You
Do not be afraid to consult with your nursing staff at the school. The right patient lift will be one that is easy to operate and handle by those who will be controlling it most of the time.
Portable electric lifts hold many of the kind of advantages that you and your staff want as you can see from this model here.
Budget
No price tag can be put on such a critical piece of equipment, and yet most schools do have a budget, and you want to stay within it. Fortunately, there are many patient lift options available that are quite affordable and execute their job stupendously.
Patient lifts are built to last, and many schools find themselves holding on to them for many years, they are an investment in every sense of the word.
Ultimately it all comes down to having a device that is easy to handle, operate, store, and that does its job efficiently. Review your choices and make an informed decision that you and your staff can be proud of in school.
The health and safety of your students and faculty is primordial and in choosing the right patient lift you are looking out for them.
Here are some of our recommended patient lifts:
The Hoyer Advance-E is compact, yet able to perform an outstanding range of transfers. Whether from the floor or onto a healthcare bed, the Advance-E Electric Lift copes with ease. The Advance E's unique tapered leg design allows the lift to get even closer to the widest of obstacles. This is especially useful when encountering large chairs, bulky commodes, and wheelchairs. The tapered design also ensures that the resident feels safe and secure during the transfer. The Advance-E Patient Lift is compact, yet able to perform an outstanding range of transfers.
This lift is built for years of trouble-free service with "no tools required" assembly. Quick snap connections require no tools. Powered Lifter uses rechargeable batteries with an onboard charging system. Built into the Lift's control box is a battery charger. Battery and charging system includes low charge and load capacity warning.
The Invacare 9805 hydraulic lift is designed to make transfer situations safe and affordable for everyone involved. And with its slim design and two finish options, the hydraulic lift is versatile enough to use in most homecare situations.
The Easy STS 400 Stand Assist Lift from Lumex is a standard stand assist patient lift.  This lift is extremely helpfull to the caregiver in pivot transfers.  It's design enables give quick and safe assistance to those who have trouble standing. This lift is ideal in helping to remove clothing and dressing the patient, it can be used when the patient can support approximately 60% of their weight, and can control their upper body.  Sit to Stand lifts are the most popular type of lifts going into institutions.  This lift can enable the caregiver to move and transfer the patient with confidence!
Power-operated base allows the legs to be positioned where you need them. Floor pick-up capability helps prevent caregiver strain. Emergency stop, power, manual lowering and audible, low-battery warning provide safety. 4-point, cradle design minimizes patient sway.