The 2010 Standards of the Americans with Disabilities Act (ADA) requires that all public pools and spas meet accessibility requirements for people with disabilities. ADA compliant pool lifts are lifting devices that help people with limited mobility or disabilities get into a pool or spa. Rather than entering with stairs or a ladder, a lift eases the burden of movement for users and allows them to participate in aquatic exercises or relaxation. Newly constructed pools and existing public facilities must comply with the ADA by providing accessibility to those with disabilities.
There are several models of pool lifts including portable and fixed versions. The general design involves a mechanized seat that raises and lowers, enabling a person to get in and out of the pool with ease. The person sits in the chair, which then lowers directly into the water. This can be much easier and safer for the elderly and people with disabilities or limited mobility, who may otherwise have trouble entering the pool using steps.
ADA compliant pool lifts require an anchor to connect to the pool deck. Depending on the type of deck, various anchors exist to accommodate differences and ensure the lift stays put.
What's the difference between spa lifts and pool lifts? Even if both are ADA compliant, there are slight differences that determine where you can use each one. Spa lifts can usually go over higher obstacles than pool lifts, and they also usually pivot 360 degrees around their base. However, pool lifts usually have a greater horizontal reach than spa lifts. They can get someone into water below deck level.
The following is a selection of some recommended ADA compliant pool lifts.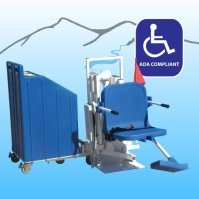 The Patriot Lift can accommodate up to 450 lbs, and is suitable for most pools up to 6 feet deep. A specially designed seat allows for hassle-free lateral transfer from most wheelchairs that improves convenience for individuals. The submersible push-button remote control allows for handling even in the water. A durable stainless steel lift frame and coating make this lift good for many years of service.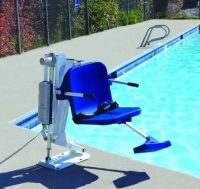 The Ranger pool lift is a great choice for small in-ground pools such as in small hotels or even homes. The low profile design has 2 different mounting options making it simple to install on most decks. The lift can handle up to 350 lbs and users can easily control it with a 2 button remote.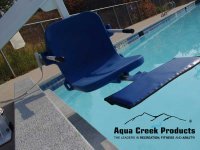 This lift is based on the original Aqua Creek Pro Pool lift design with the same quality steel structure powered by rechargeable battery. It is ideal for pools and spas with raised edges or spa benches. The extended reach covers a greater area than standard lifts making it more practical. It also features a higher seat which can be beneficial for wheelchair transfers.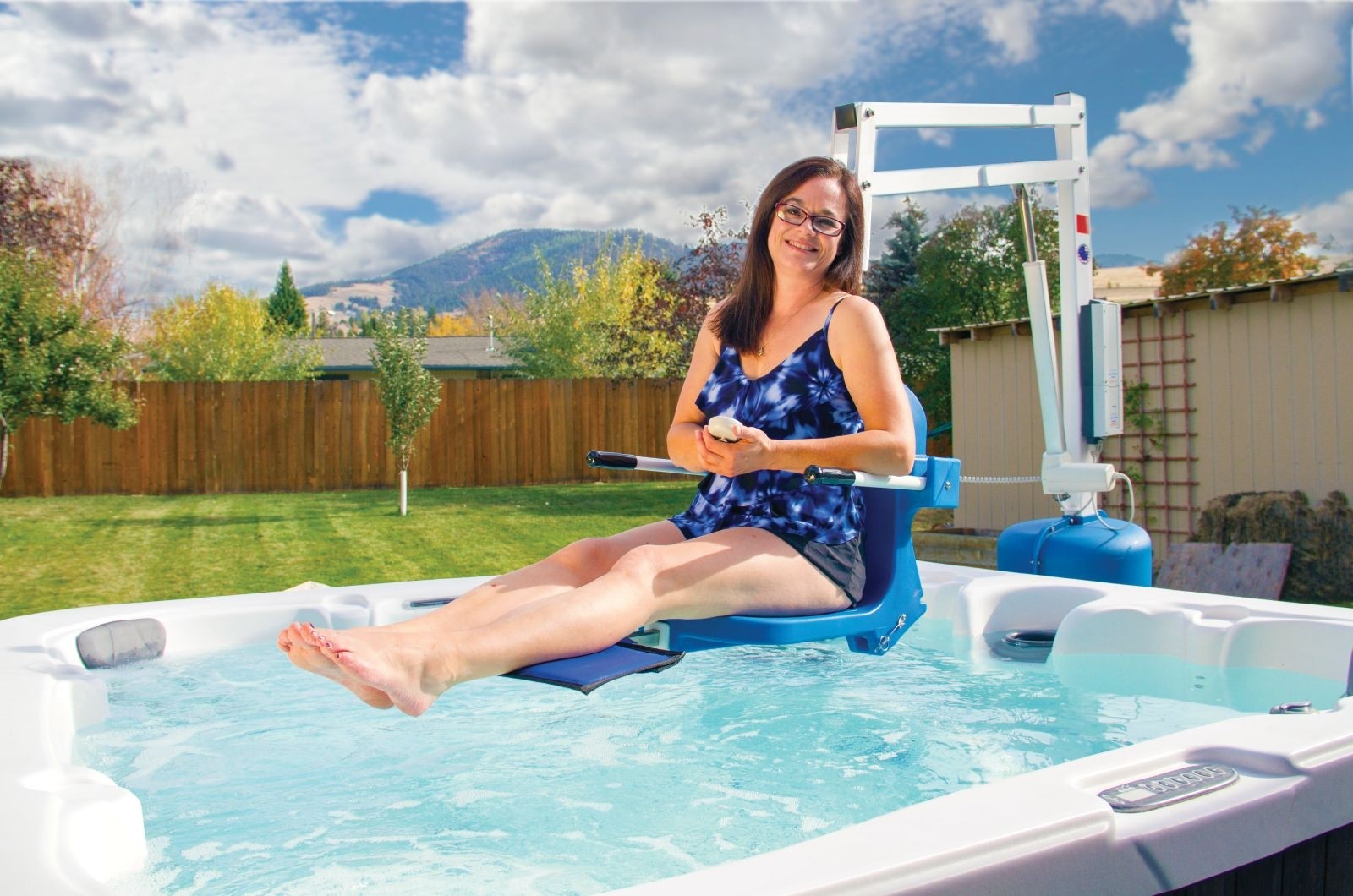 The Aqua Creek Spa Lift Ultra has a 360-degree rotation to make spa access simple. Its adjustable, pull-out leg rest and moving arm rests enhance comfort for the quick transport. The Spa Lift Ultra has a lifting weight limit of 400 lbs. It is able to maneuver over walls of up to 51 inches high and 27 inches thick. For additional peace of mind and ease of use, this lift comes with a 5-year structural warranty and a 5-year pro-rated electronics warranty.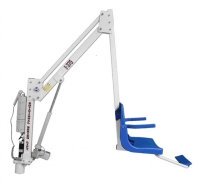 The Global Lift Commercial Series S-350 is a stationary lift able to carry up to 375 lbs. It can be used for both spas and pools. An added benefit is that the stationary lifts become portable with the addition of a portable kit. This gives the option to change to portable if necessary in the future.
There are 2 useful safety features.  The Key Lock-Out System locks the system with a turn of the key when the lift is not going to be in use. The Emergency Return System makes sure the user is returned to an upright sitting position out of the water if there is a malfunction in the handset or controls.
If you're looking for ADA compliant pool lifts, Amica Medical Supply has a wide selection of low cost, quality options to explore. Browse Amica's ADA compliant pool lifts.