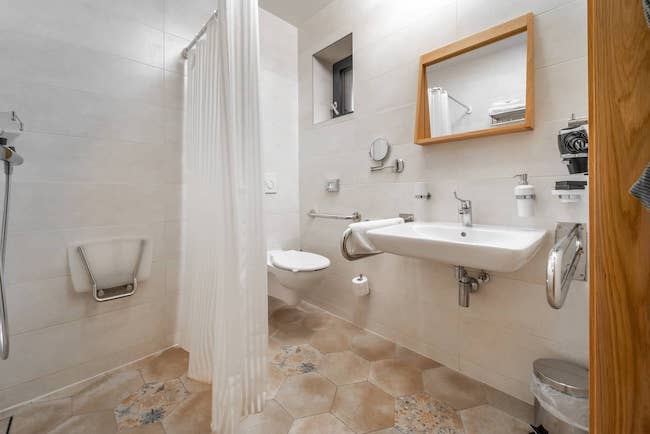 Bathrooms can be difficult for the elderly and people with disabilities to access, but with the help of a shower chair, many of the challenges can be eliminated. A shower chair provides support and stability, making it easier for someone with limited mobility to take a bath or shower.

There are many different types of shower chairs available on the market today, so choosing the right one can be tricky. That's why we've put together this list of the five best shower chairs currently available. Read on to find the perfect one for you.
Shower Chair vs. Bench
Shower chairs and benches are both designed to provide a place to sit in the shower, but they offer different benefits. A shower chair is more compact and typically has a narrower seat, making it ideal for smaller bathrooms. A bench, on the other hand, is wider and can accommodate larger individuals.

Another difference between these two types of seating is that shower chairs typically have arms for added support, while benches do not. This can be important for people with limited mobility, as it provides them with a place to rest their arms while sitting in the shower.
How To Install a Shower Chair or Bench
Installing a shower chair or bench is a simple process that can be done in just a few minutes. Here are the steps:

Measure the width of your shower and make sure the shower chair or bench you choose is compatible.
Remove the legs of the shower chair or bench, if it has them.
Place the shower chair or bench in the desired location in your shower and reattach the legs.
Tighten the screws on the legs to secure them in place.
Test out the chair or bench to make sure it is stable before using it.
The 5 Best Shower Chairs for 2022
Here are our picks for the five best shower chairs currently available:
The Drive Medical Deluxe Aluminum Bath Chair is one of our top picks for the best shower chair. It's made of lightweight aluminum for easy transport and has a comfortable seat. This shower seat has skid-resistant feet, draining holes in the bench to reduce slipping, and an adjustable height. The pinch-free cover enables push pins to be depressed without accidentally hurting fingers. It easy to assemble, with no special tools required to do so.
The Ready Set Go K.D. Deluxe Aluminum Bath Bench is another great option for a shower chair. It's made of lightweight aluminum and has a comfortable, molded back support. This bench also has skid-resistant feet and an adjustable height to fit any user. It's easy to assemble and comes with a convenient carrying bag.
The Drive Medical Deluxe Bariatric Bath Bench is our top pick for a shower bench. It's made of heavy-duty steel and can accommodate up to 500 lbs. This bench has an extra-wide 16" seat, a comfortable backrest, and skid-resistant feet. It also has drainage holes to reduce slipping while showering.
The K.D. Teak Adjustable Height Bath Stool is a stylish option for those looking for a shower stool rather than a bench. It's made of natural teak wood, which is water resistant and durable. This stool has an adjustable height to fit any user and non-skid feet to keep it in place as you bathe.
This bath bench by Drive Medical is on our top five list as it has a lightweight aluminum frame and has a padded armrest for added comfort. It can be adjusted to accommodate the height of the user and has non-skid feet for added safety. This model has a simple design that will work well with many types of shower areas.
Tips for Choosing a Shower Chair or Bench
When choosing a shower chair or bench, there are a few things to keep in mind. First, consider the size of your bathroom and make sure the piece you select will fit comfortably. Next, think about how much support you need. If you have limited mobility, you may want to choose a model with arms.

Finally, consider the style and material of the chair or bench. If you want something that will match your existing decor, choose a model made from natural materials like wood or bamboo. If you're looking for something more utilitarian, aluminum or steel chairs and benches are a good option.

No matter what you choose, make sure to read the reviews before purchasing to ensure you're getting a quality product.
Find the Perfect Shower Seat from Amica Medical Supply
If you're looking for a shower chair or bench to improve your bathroom accessibility, Amica Medical Supply has a great selection of products to choose from. We carry a variety of brands and styles to fit any budget and need.
Browse our selection today and find the perfect bath safety tool to make your showering experience secure and more comfortable. Don't forget, all of our products come with free shipping!