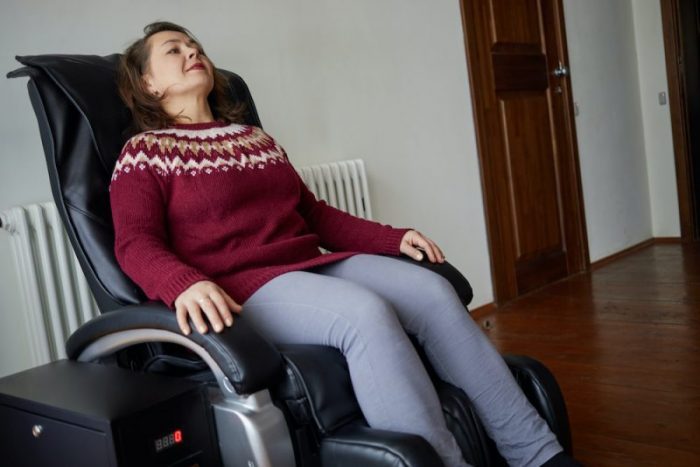 A medical massage chair offers relaxation and pain relief in the comfort of your home.
Whether you're looking to decrease pain, relieve tension, or heal the body, a medical massage chair offers these benefits and more.
These chairs serve a therapeutic purpose and bring about both mental and physical benefits to the user. Furthermore, there are different models available based on needs, size, and preference.
If you're interested in learning more about medical massage chairs, explore the purpose and benefits below.
What Do Medical Massage Chairs Do
Medical massage chairs can serve many purposes. For instance, they work as pain management tools by allowing users to receive deep tissue treatments. Additionally, massage chairs aid in increasing joint flexibility. In this way, they can increase the mobility of users.

While capabilities differ depending on the model, medical massage chairs administer a relaxing full body massage treatment to the user.

For example, the Titan OS- 8500 Massage Chair offers a zero-gravity feature. This setting is ideal for relieving back pain and pressure. When you enter the zero gravity position, "the complete weight of your back is virtually supported by the backrest, which maximizes the intensity of the massage."
How Can Massage Chairs Benefit Users
You may still be wondering if massage chairs are just an indulgence, but there is data to suggest these chairs provide real health benefits.
From healing muscles to improving circulation, the benefits of massage reach beyond providing relaxation. Read on to understand the benefits of medical massage chairs.
Increase Circulation
Massage chairs utilize a variety of movements, including rolling, kneading, gripping, and more. These movements affect key points along the body, improving the flow of blood throughout. Increased blood flow offers a myriad of health benefits. For example, it boosts the immune system to fight off disease and aids in removing toxins from the body.
Boost Mental Health
Not only are there physical benefits of medical massage chairs, but there are also mental benefits. A University of Miami study found that massage chair sessions reduced anxiety among adults. The sessions also boosted electrical activity in the brain, making the massage chair users more alert and able to solve problems more quickly.
Receive Treatments On-Demand
In addition, massage chairs offer on-demand services for users. Rather than scheduling an appointment and waiting to receive a massage, you can utilize the chair whenever you desire. This is especially helpful for those who find it challenging to get around or who have full schedules and limited time for spa appointments. With an at-home chair, you're more likely to take time out of the day to care for your body.
Why Should I Purchase A Massage Chair For My Home?
There are multiple reasons to look into an at-home medical massage chair. The ease of access and long-term health benefits are just a few.
By now, you're familiar with some of the physical and mental advantages massages can yield. But it's difficult to enjoy all the health improvements of massages if you only receive them once in a while. To reap the benefits of massage, you could schedule routine sessions at a local spa. However, this would impact your finances greatly after just a few months of treatment.
On the other hand, medical massage chairs are an investment that lasts. They are a one time purchase that you will use for years to come. With a chair in your home, you can consistently get treatments on multiple areas of your body. The convenience means that massage can easily be a part of your healthcare routine.
Where To Buy a Medical Massage Chair
Amica Medical Supply is your answer to at-home massage solutions. With a large selection of chairs that are both stylish and effective, Amica offers high-quality massage chairs to fit your needs.

The massage chairs offered by Amica are aesthetically pleasing and well made. Amica carries top brands in the industry, including Osaki, Infinity, and more. With Amica's price promise, you can be sure that you are getting the best price for the massage chair you desire.

On top of this, Amica offers high-quality customer service. If you have questions about massage chairs, don't hesitate to contact Amica Medical Supply.