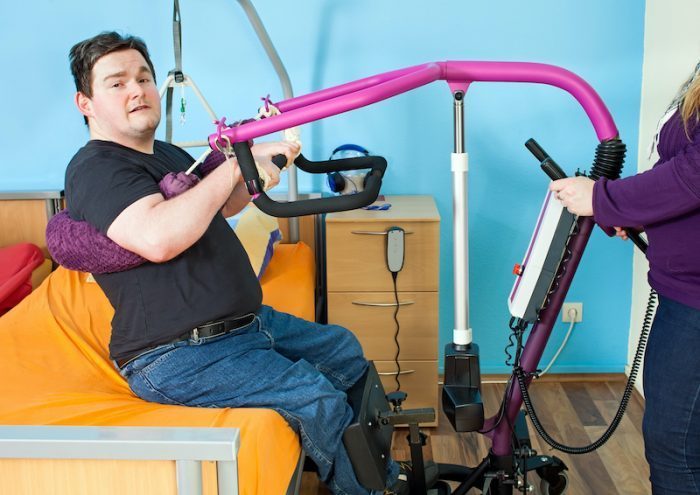 A Hoyer lift allows users to be safely transported with minimal discomfort. These transport devices benefit the user as well as their caretakers.

In fact, an OSHA study found that when using safe patient handling devices:

"Patients have fewer falls, skin tears, and pressure ulcers […] and patients feel significantly more comfortable and secure when a mechanical transfer device is used. All of this results in an enhanced sense of dignity, leading to increased patient satisfaction."

The benefits are evident. But you may be wondering, "How much does a Hoyer lift cost?"

While costs vary, we have compiled helpful information to tackle this question. Read on for insights on the prices of Hoyer lifts and options available.
How Much Does A Hoyer Lift Cost
When addressing the question, "How much does a Hoyer lift cost?" keep in mind that Hoyer lifts are not a commodity. In other words, there are differences between models in terms of what they are built for. As such, prices differ among Hoyer lifts. Let's examine different types of lifts and their prices.
Manual Hoyer Lifts
For occasional lift needs, manual Hoyer lifts offer value and reliability. To operate this type of lift, the caretaker utilizes a hand pump. The pump activates a hydraulic cylinder to perform the lift. Manual Hoyer lifts are ideal for short transfers and can even be used to lift an individual who has fallen. Explore different manual lifts below.

Hoyer Classic Hydraulic Lifter Manual Patient Lift
This classic lift can support up to 400 pounds. The base is made of heavy-duty steel, and casters lock for secure transfers. You can attach a four-point or six-point sling to this lift. It also comes with a free sling and a one-year warranty.
Price: $913.00
HoyerPro Advance-H Portable Manual Patient Lift
Unlike typical lifts that are not travel-friendly, this lift can fold to fit in tight spaces. In addition to its portability, the lift can perform a wide range of transfers. Notably, the Advance brand offers the only Hoyer lifts on the market designed for transporting users to and from vehicles. It can support up to 340 pounds.
Price: $1,540.00
Hoyer Classic Hydraulic Manual Patient Lift
This lift has an adjustable U-shaped base and sleek chrome finish. It is fit to work with any two-point Hoyer sling. For added stability during transfers, it features four-inch offset casters. The manual lift can support up to 400 pounds. 
Price: $1,029.00
Electric Hoyer Lifts
For ease of use and everyday transfers, electric Hoyer lifts are the ideal option. Rather than using a hand pump, the operator uses a control wand to direct the battery-powered lift. These lifts often feature rechargeable batteries so you can ensure the lift is powered up and ready for use. These lifts offer increased control over the transfer process. Explore electric Hoyer lifts below.

HoyerPro Advance-E Portable Electric Patient Lift
This lift features a tapered leg design that allows it to move close to wide objects such as furniture and vehicles. It is collapsible and does not require any tools to fold down into a compact size. This electric lift allows for safe transfers in the home as well as to and from vehicles.
Price: $2,878.00

Hoyer Classic Deluxe Electric Power Patient Lift
This deluxe model was designed with care and convenience in mind. Ergonomic handle grips alleviate user back strain. It also features a mechanical down-release lever for non-powered lowering. The lift can support up to 400 pounds.
Price: $2,376.00

HoyerPro Stature Electric Full Body Vertical Patient Lift
This lift is built to deal with even the most challenging lifts. The lift features a straight mast for ease of patient transfer at a consistent distance from the device. The battery is mounted at the top of the device for easy removal when charging. This durable lift can support up to 500 pounds.
Price: $8,798.00
Does Medicare Cover Hoyer Lifts?
Lifts fall under the category of durable medical equipment or DMEs. As such, Medicare may offer partial coverage of the device. According to Medicare, "Medicare will only cover your DME if your doctors and DME suppliers are enrolled in Medicare."
These matters vary from person to person, so be sure to check with a Medicare representative to clarify your policy coverage.
Where to Buy a Hoyer Lift
Buying a Hoyer lift is a big decision, and Amica Medical Supply is here to help. If you are looking for a top provider of Hoyer lifts that provides excellent customer service, consider Amica.

Amica offers price matches on a wide array of products to ensure you get the best deals. Furthermore, we have a wide range of Hoyer lift options available. If you have questions about Hoyer lifts or other medical equipment, contact Amica today!