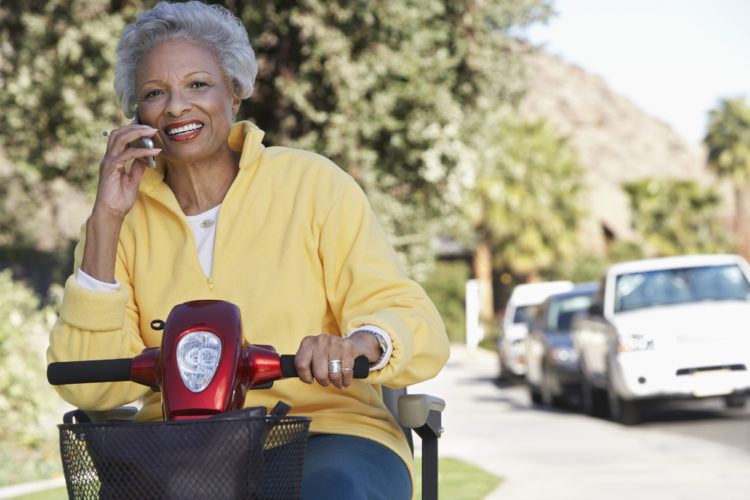 Scooters make traveling easier for patients with limited mobility. There are two main types for you to purchase: a 4 wheel or 3 wheel mobility scooter. Most scooters have a swivel chair and a traveling range of about 20 miles, though these factors may vary from model to model.
Despite some similarities, both 3 and 4 wheel mobility scooters have different pros and cons. Keep reading to learn which is the better option for you!
Is a 4 Wheel or 3 Wheel Mobility Scooter Better for You? What You Should Consider Before Buying
Maneuverability
Typically, 3 wheel mobility scooters have a more lightweight steering mechanism. As a result, these scooters are much easier to steer. In fact, the turning radius can be up to 10 inches less than a 4 wheel mobility scooter.
That being said, it's important to evaluate where you will most likely use the scooter. In a confined space, a 3 wheel scooter is best because it will be easier to turn.
Travel Terrain
Generally speaking, 3 wheel mobility scooters are better for indoor use, while 4 wheel scooters are better suited for outdoor use.
Typically, 3 wheel mobility scooters are better for indoor use because of its small, compact size. Additionally, 3 wheel scooters often have smaller wheels, which offer less resistance. In comparison, 4 wheel scooters often have larger wheels, which enable them to travel on rougher terrain.
However, some 3 wheel scooters come with large wheels and some 4 wheel scooters have small wheels. So if you would like a 3 wheel scooter that is more equipped on rougher terrain, you can opt for that option.
Balance
Ultimately, 4 wheel mobility scooters offer more stability because of the extra wheel. Therefore, they are a better option for individuals who struggle with balance.
For example, bariatric patients who struggle to walk may benefit from a 4 wheel scooter. The added stability will help support such patients.
>>Shop for bariatric scooters here
Legroom
Because 3 wheel scooters only have one wheel in the front, they have more legroom. That being said, taller individuals or ones suffering from a leg or knee injury may benefit from this model.
However, every mobility scooter is different, so if you require a 4 wheel scooter but want added legroom, you may be able to find one that suits your needs.
Price
Generally, 3 wheel scooters are less expensive than 4 wheel scooters.
However, you can find affordable prices for both types of scooters at Amica Medical Supply. Here, you can purchase a 3 wheel scooter for as low as $630 or a 4 wheel scooter for as low as $715!
>>Shop for 3 wheel mobility scooters here
>>Shop for 4 wheel mobility scooters here
Purchase the Scooter That's Right for You!
In the end, 4 wheel mobility scooters are better for outdoor use, while the easy mobility of 3 wheel scooters are better suited for indoor use.
With Amica Medical Supply, you can easily find the scooter that's right for you! Amica works with the top manufacturers in the industry, carefully selecting the best products to sell for individual use or in facilities. In addition to their exceptional products, you can expect a personalized purchasing experience. Contact Amica Medical Supply today to learn more, or give them a call at 1-877-960-0706!