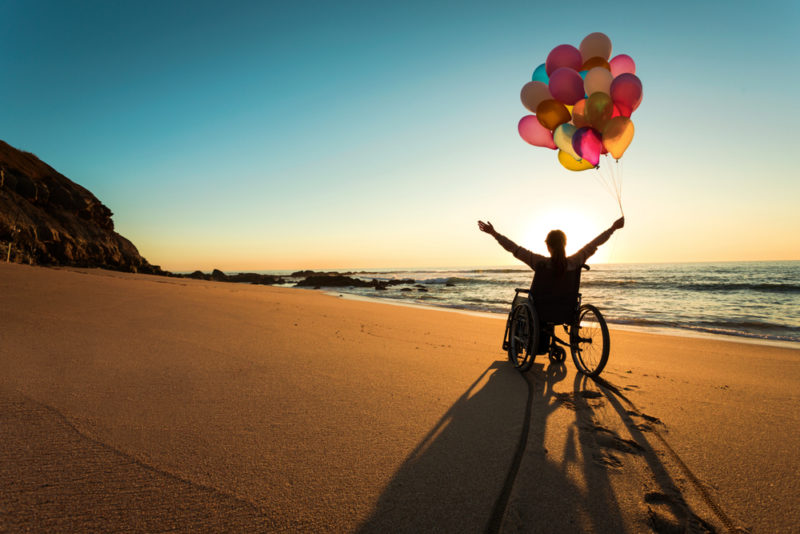 Sitting for hours on end can be painful. Eventually, muscles will start feeling sore, and skin will begin breaking down. If you or a loved one uses a wheelchair, the best way to improve comfort and improve postural health is to use a wheelchair cushion.
Wheelchair cushions can help relieve pressure, ultimately making sitting for long periods more comfortable for individuals who use wheelchairs.
There are many kinds of cushions to choose from. For example, some are full of air, foam, or gel. Additionally, some covers are made to feel comfortable against the skin, reducing friction, and increasing breathability. Other covers may not have that option.
So what's the best wheelchair cushion for pressure relief? Below, we've compiled a list of the best wheelchair cushions for you to choose from!
Find the Best Wheelchair Cushion for Pressure Relief!
1. ROHO Hybrid Elite
The ROHO Hybrid Elite has an innovative cushion design that improves pelvic alignment and overall posture. If you have difficulty with lower extremity positioning and alignment or have an asymmetrical posture, the ROHO Hybrid Elite is the cushion for you.
The added stability also helps the patient transfer safely in and out of his/her wheelchair. Additionally, the cushion helps to redistribute the weight around the pelvis area, providing you with superior skin protection.
How does this work? The cushion is adjustable. When you adjust the cushion to fit the patient's shape, you can then minimize tissue deformation and maximize blood flow. This cushion thus works best for individuals who have a moderate to high risk of skin breakdown.
Lastly, this cushion is lightweight and washable, making it efficient and ergonomic for patients and caregivers alike.
2. ROHO Nexus
The ROHO Nexus was designed with stability in mind. The contoured foam base helps transfer patients in and out of the wheelchair with ease and comfort. In addition, it aids in positioning the pelvis and lower extremities for a better sitting posture.
Even more, the cushion is adjustable, has low friction and low shear that protects the patient against wounds. This cushion is truly designed to protect individuals who use wheelchairs with the highest level of skin protection!
3. Invacare Matrix Flo-tech
The Invacare Matrix Flo-tech is made for people with the highest risk of skin breakdown or who have existing tissue damage.
High-quality foam creates the base to ensure maximum comfort. Moreover, the outer cover is moisture-resistant, breathable, and has a non-slip base.
Lastly, the cushion doesn't require any kneading or maintenance, is non-temperature sensitive, and has fastener strips for attaching additional fit components, making it ergonomic and easy to use.
4. ROHO Harmony
The ROHO Harmony cushion is one of the most lightweight on the market, allowing the patient more independence and freedom when traveling.
Furthermore, the contoured foam base fits each user's unique shape, reducing discomfort by enhancing blood flow. That means patients can sit for longer periods in the most comfortable conditions.
ROHO Harmony is one of the most functional cushions on the market!
5. ROHO Mosaic Air
The ROHO Mosaic Air cushion has interconnected air cells that help distribute weight evenly, optimizing comfort and aiding in basic-level skin protection.
This particular ROHO wheelchair cushion is lightweight and easy to use, though it is best suited for individuals with fair to good balance and who are at low risk for skin breakdown.
6. ROHO LTV Seat
The ROHO LTV Seat is made up of individual, interconnected air cells that allow air to transfer from chamber to chamber, evenly distributing body weight pressure.
Additionally, the easy-to-use valve enables you to customize the seat to your specific comfort level. Additionally, the cushion is lightweight and easy to fold, making it easy to transport from place to place. The non-skid, fluid-proof cover is durable and easy to clean.
7. Drive Medical Titanium Gel/Foam
Last but not least, the Drive Medical Titanium Gel/Foam Wheelchair Cushion is one of the most affordable wheelchair cushions on the market that still has great quality. This cushion is designed for superior weight distribution, making it ideal for bariatric patients. Elastic, gel, and high-density foam forms the top layer of cushion yo provide optimum comfort. High-density foam creates the lower layer, which encourages proper posture. The Nylon cover is water-resistant and comfortable against the skin.
Purchase Your Perfect Wheelchair Cushion Today!
Now that you know the best wheelchair cushion for pressure relief, you are ready to purchase one! But where can you find affordable wheelchair cushions to purchase?
Shop for wheelchair cushions with Amica Medical Supply! Amica offers customers the most affordable prices around, as well as the best customer service. Moreover, if you are still unsure about what wheelchair cushion you need, they can help you choose one that suits your unique needs. Contact Amica Medical Supply today to learn more!