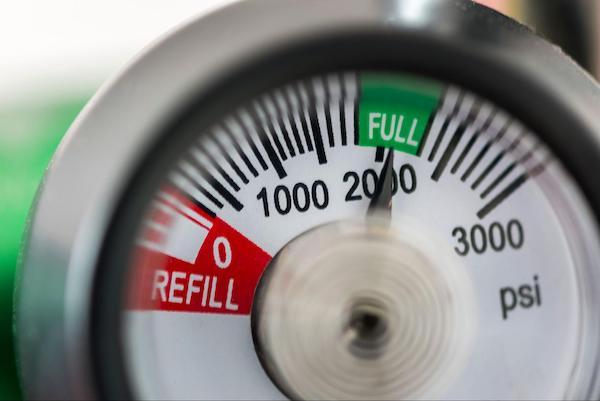 Having the freedom to handle your own medical care can be a challenge when it comes to refilling oxygen and keeping your equipment ready to go. Luckily, there is a wonderful solution to refilling oxygen tanks at home without sacrificing freedom and independence.
How to Fill Oxygen Tanks at Home
Filling your oxygen tanks from the comfort of your space is much easier than you may think. Read on to learn the step-by-step process of how to fill your oxygen tank at home.
1. Connect the Refill Machine
Start by placing the refill machine on top of your oxygen concentrator and connecting them to the nearest power source. Let your concentrator run for about 5 minutes before continuing with the refill process.
2. Prepare Your Tank
While your concentrator runs for the appropriate amount of time, you'll want to prepare your tank. Ensure that the tank is off by aligning the "Off" option with the small triangle at the top of the tank. Keep in mind that the contents of your tank must be below 1000 PSI to safely refill.
3. Adjust Flow Meter
Turning back to your oxygen concentrator, you'll need to set the flow meter on the front to the prescribed rate. This will come from the set number given to you by your doctor. Use the attached knob to move the flow meter to the correct number.
4. Connect Cylinder
Once you have your concentrator ready, remove the protective cap from the tank and connect it to the fill port, or coupler, on the refill machine. You should hear an audible click when it is in place. Pull up gently on the tank to ensure it will not come unattached.
5. Refill Tank
When you're ready, turn the refill machine on and allow your tank to fill. Each oxygen tank refill time will vary depending on the size of your cylinder.
6. Remove Tank
Your machine should show in some capacity when your tank is full. Turn the refill machine off and release the tank by pushing down on the coupler.
Benefits of Filling Your Own Oxygen Tanks
Knowing how to fill your oxygen tanks at home opens up a world of benefits. These include but are not limited to:
Regaining independence. You'll no longer have to rely on a third party to keep your flow of oxygen constant. You can use your compact machine all by yourself.
Saving time and money. Gone is the need to schedule appointments and pay someone else to refill your oxygen tanks. Travel is no longer required to handle empty tanks.
Wider access to oxygen. Instead of waiting on the next shipment of new tanks to arrive, you can fill your tanks and have access to oxygen immediately.
With a refill system within reach, you won't have to worry about empty tanks. Let's take a look at the handy refill equipment available to you.
The Best Oxygen Tank Refill Equipment
The first step in oxygen tank refills at home is to have the proper equipment. Check out some of Amica's must-have tools for filling your tanks.
Invacare HomeFill Oxygen System
With Amica's high-quality Invacare HomeFill Oxygen System, you'll be ready to fill your oxygen tanks in no time. This revolutionary device is best used for 5 or 10-liter concentrators and ensures 90% or above oxygen purity.
HomeFill Post Valve Cylinder
While your oxygen concentrator will likely come with a tank, it never hurts to have a backup. Amica's HomeFill Post Valve Cylinder comes in a multitude of sizes, with the largest one holding almost 16 hours' worth of oxygen. Select the right size for your needs and always be prepared for a refill.
Frequently Asked Questions
When should I use my home refill system?
The answer is simple: whenever you need to! There's no limit to refilling your oxygen tanks. If you've noticed your oxygen tank is running low, connect your refill machine and replenish the tank. Follow the instructions above to see how to fill your oxygen tank at home.
Where can I use my refill system?
As long as the place you are at has 110–120 volt electricity, you should be able to refill your oxygen tank. Refilling at home is ideal since you won't have to haul the necessary equipment with you.
Refill Your Oxygen Tanks with Amica
As one of the largest online Authorized Distributors of medical supply products, Amica Medical Supply is bound to have the perfect solution to care for your health from home. Our dedicated commitment to customer satisfaction means that you can rely on us to deliver you the highest quality products from the top manufacturers around the world. Give us a call at 1-855-557-5446 or contact us online to find out how we can help you achieve independence through home oxygen tank refills.