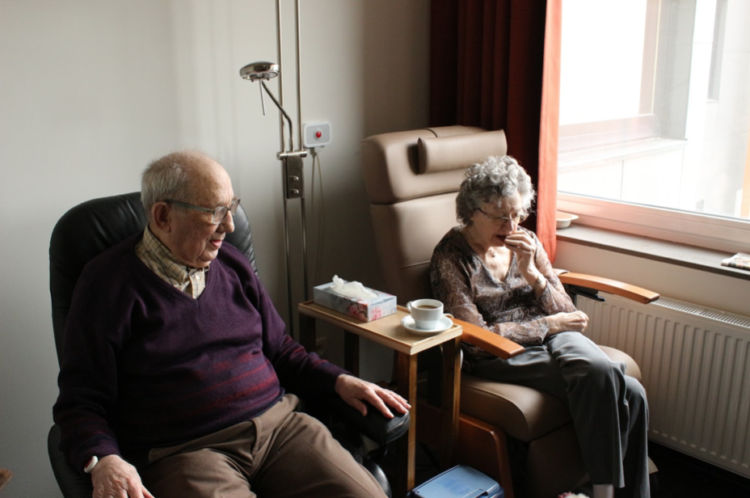 Upon first thought, medical supplies may appear to be a product category only healthcare facilities are interested in. But with more seniors choosing to live independently, this is no longer the case! Regardless of whether individuals truly live alone or with the help of a long term care professional, having access to these devices is life changing. In addition to increasing their mobility, medical devices can keep patients and their caregivers protected from injury.
Unfortunately, many individuals don't invest in such products because of the preconceived notion that these devices are too expensive. With more suppliers entering the market, there are many low cost options to choose from. In fact, investing in these economical home medical supplies may just be the best investment you make in 2019!
Increased Mobility
The term "home medical supplies" covers a range of product categories including: wheelchairs, lifts, scooters, walkers, and more. Although these devices have different functions, they all have the same goal. That is to increase one's mobility! This goal is so important because 15.7 million individuals, aged 65+, struggle to walk and climb. With the presence of certain medical supplies in their life, they can regain their independence! The main obstacle is getting access these medical supplies. Of course, Medicare and Medicaid are a great help for many! But for those who don't qualify or have insurance, affording such devices can seem nearly impossible.
Due to the recent growth in the medical supply sector, accessibility is becoming less of an obstacle. In the digital age, many companies are doing their business on the internet. Because of this, they are able to pass savings on overhead and other costs onto their customers! On top of that, many manufacturers like Bestcare and Invacare specialize in producing affordable medical devices. With both of these circumstances in conjunction, customers win!
Increased Safety
Every year, one in four 65+ Americans fall. These falls can result in either: serious injuries which need to be treated in the emergency room or, in some cases, death. Medical devices like scooters, lifts, lift chairs, and walkers can greatly aid in preventing these perilous falls. Moreover if a fall was to occur, emergency systems that detect such activity can call emergency services and quite frankly save your life.
In addition to the patients themselves, these devices also benefit long term care providers. Often times, caregivers experience injury while performing difficult patient transfers. This ultimately hurts the patient as well for they are left without supervision or care. Furthermore, 18% of caregivers face injuries due to overexertion- which is twice the national rate across all professions. You can protect them from sprains and strains by investing in lifts that do the heavy lifting associated with transfers. With the benefits affecting both patient and provider and preventing injury and in extreme cases death, medical devices are the best money one could possibly spend.
All in all, our company's mission has always been first and foremost to provide affordable medical supplies to all our customers. We think that there is nothing more important than the health and safety of our patients! That is why we work closely with our manufacturers to ensure that we can pass our savings on to you. So next time you are looking for a piece of medical equipment big or small, come check out how much money we can save you!
The Most Economic Home Medical Supplies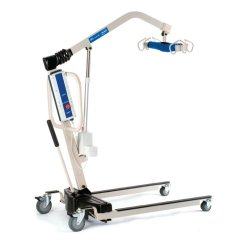 The high lift range allows easy access to tubs, chairs, commodes, floors and beds. Along with functional and innovative lifts, Invacare also offers facility assessment plans to further aid in your safety management program. Their all-encompassing lift system also includes in-service training, videos and an ergonomic safety plan. Their goal is to partner with you in lowering costs and protecting your staff from injury.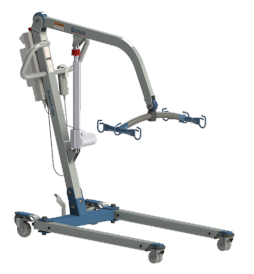 This full body patient lift is a cost effective solution for safe patient transfers in a facility environment. The base easily opens to increase stability during operation.The lift's legs can then be closed to transport the patient through doorways and other spaces. This lift has a 6-point spreader bar to accomodate a wide variety of full body slings. The PL400 is compatible with most 4-point and 6-point slings on the market.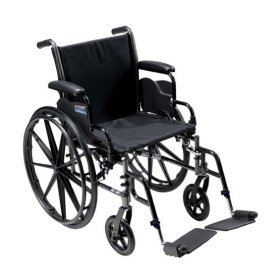 The Cruiser III wheelchair, is your economical choice for a lightweight wheelchair. Precision sealed bearings in front and rear wheels ensure long lasting performance and reliability. The dual axle provides 2 seat heights (19.5" and 17.5") should you need a lower seat. The front casters are also adjustable in 3 positions and the Composite, Mag-style wheels are lightweight and maintenance free.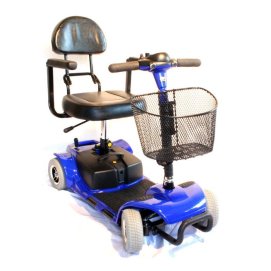 The Zip'r Roo 4-wheel is a basic solution for those on a budget. It has easy assembly, simple operation and light weight components. The Zip'r Roo is designed to accommodate 250 lbs. and incorporates an intelligent braking system and aluminum wheels. It includes a convenient front basket and a foam seat with removable arm rests.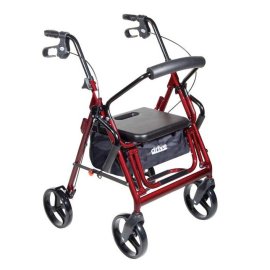 The Duet has locking flip up armrests and a flip down footrest to aid the user while it is used in the transport chair mode. A safety lock release is used to store the arms and a velcro strap is used to store the footrest while using the Duet for ambulation. It combines the features of a rollator and transport chair in one unit. An individual can ambulate independently or be pushed safely by a care giver.