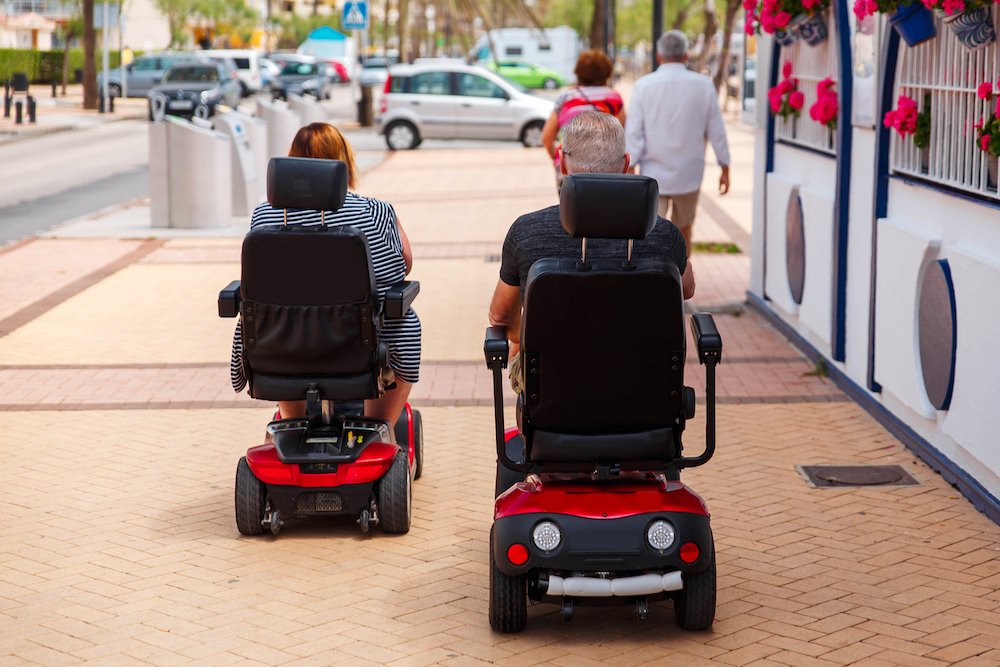 Mobility scooters are wonderful patient transfer devices that enable individuals with limited mobility to travel easily and efficiently.
Whether you have a three-wheel or four-wheel mobility scooter, you'll love these mobility scooter accessories. Check out this list of useful accessories you might need for your scooter!
Check Out These Mobility Scooter Accessories!
Holders
Cup Holder
A cup holder is a great addition to any mobility scooter. The Drive Medical Cup Holder, in particular, attaches easily to practically any scooters' armrest. You can take your hot or cold beverage anywhere you go with this awesome mobility scooter accessory!
Cane Crutch Caddy
A cane crutch caddy is a device that attaches to the back of a mobility scooter. As shown in the picture, the device is made to easily hold a cane of any make or model. This way, when you travel via your mobility scooter, you can bring your cane with you and store it in a secure place. Otherwise, it isn't easy to carry a cane while you are steering your scooter.
The Drive Medical Cane Crutch Caddy, in particular, is one of the best on the market. It is easy to install and can be used with all Drive Medical scooters, as well as most other scooter manufacturers.
Covers and Canopies
Scooter Cover
Scooter covers can help protect your scooter from dust, the sun, and weather. If you park your scooter outside or leave it in the garage for long periods of time, a scooter cover will help your scooter as good as new.
The EW-36 Scooter Cover offers scooters weather, dirt, and UV protection. Moreover, it's lightweight, portable, and easy to clean. This scooter cover is crafted from strong material that can protect your scooter from the sun's hot rays, the winter cold, and even from dust and debris.
Sun Shade
While scooter covers protect your scooter while you are not riding it, the sun shade is meant to be used while you are on the go. This handy device attaches to the scooter chair and acts as an umbrella, shielding you from the sun.
The Drive Medical Sun Shade is easy to install and offers UV protection for those riding the scooter. Overall, if you often use your scooter outside, a sun shade is the perfect mobility scooter accessory for you!
Baskets and Storage
Armrest Bag
Armrest bags attach to the side of your scooter. They allow you to store items and keep them within easy reach. The Drive Medical Armrest Bag has four pockets, including a mesh drink holder pocket. The pockets are also perfectly sized to fit your phone, book, or electronics. The top of the bag is even padded, which makes the armrest even more comfortable!
In the end, the right armrest bag is efficient, comfortable, and easy to use. They are a must-have for any scooter!
Rear Basket
Many mobility scooters come with a front basket. However, front baskets are only ideal for smaller objects. Rear baskets, on the other hand, can carry larger and heavier objects. For example, if you happen to go grocery shopping, a rear basket will be able to hold much more than the smaller, front basket would.
We recommend the Invacare Rear Basket, Drive Medical Rear Basket, or the Pride Go-Go 3 Rear Basket. These baskets are all perfect for quick trips to the store and carrying personal items. They are easy to install and durable. The Drive Medical Rear Basket, in particular, is made from durable steel.
Carry All Bag
The Carry All Bag is best for travel scooters. It easily attaches to the back of any scooter and is equipped with a convenient shoulder strap so you can carry items with you off your scooter as well. Whether you need a bag for your scooter or a bag for you to personally carry with you, the Carry All Bag is the perfect option for all uses!
Purchase Quality Mobility Scooter Accessories Today!
Whether you already own or would like to buy a mobility scooter, you'll no doubt need some of these useful accessories! So where is the most cost-effective place to shop for them?
Amica Medical Supply is the largest online Authorized Distributor of top-brand medical products. Moreover, because Amica works so closely with manufacturers, they are able to offer you the best prices for these top-of-the-line medical products. In other words, you won't find a cheaper price for medical products anywhere else online!
In addition to great prices, Amica has excellent customer service and safe, secure online ordering. You won't find a better company than Amica Medical Supply!
Shop for mobility scooter accessories today or contact Amica for more information on their products!