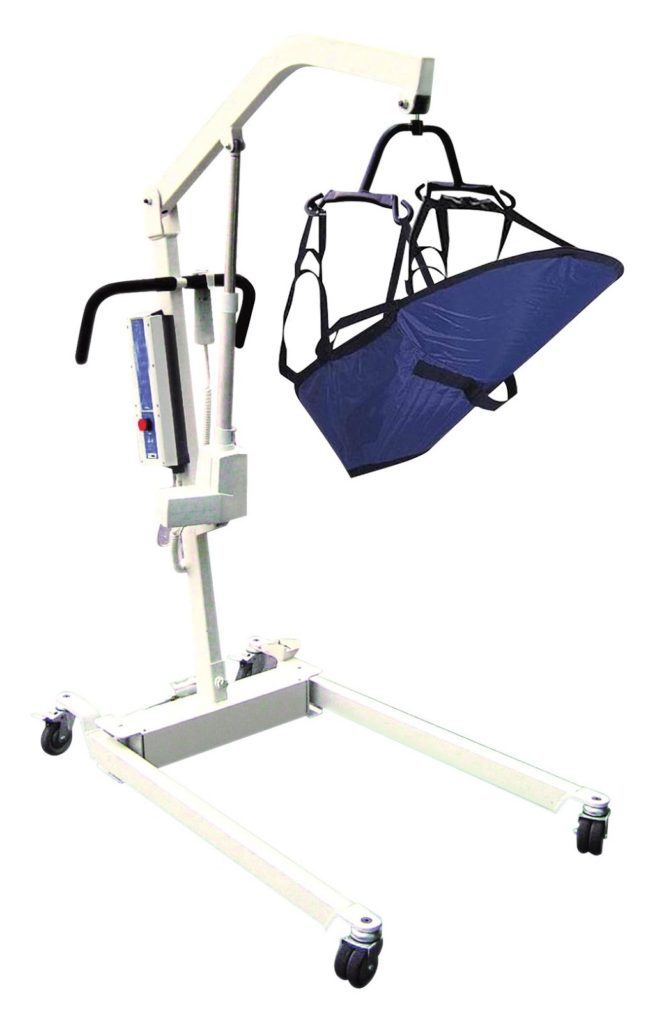 Lifts help patients transfer from different locations with ease, such as from a wheelchair to a bed. More specifically, a bariatric lift is a piece of equipment that transfers bariatric patients weighing more than 500 pounds. These lifts have a wider base that can fit around most lift chairs with ease.
However, choosing a lift for purchase isn't always easy. First of all, there are many bariatric lifts on the market with many different functions. In this article, we will explain exactly what you need to look for in a bariatric lift so you end up purchasing one that is perfect for you!
What Should You Consider Before Purchasing a Bariatric Lift?
Weight Capacity
Most bariatric lifts have a weight capacity between 500 and 850 pounds. What kind of weight limit will you need?
In most cases, the higher the weight capacity, the more expensive the lift is. For example, Amica Medical Supply sells a variety of heavy-duty lifts. Their least expensive lift is the BestLift PL228 Full Body Patient Lift at only $1,220. This quality lift can hold up to 500 pounds.
To compare, the Hoyer Power 700 Bariatric Electric Patient Lift has a weight capacity of 700 pounds and costs $4,999. On the other hand, a more high-end lift that has a weight capacity of 850 pounds -the Hoyer Calibre 850 Professional Series Electric Patient Lift- costs $12,482.
It is important to note, however, that patient lift price is not completely dependent on weight capacity. There are many factors that contribute to price. However, it is important to consider what you need your lift's weight capacity to be before creating a budget and purchasing a lift.
Electric vs Manual
Generally, electric lifts are easier to use than manual ones. With a manual lift, the patient or caregiver must manually pump a hydraulic cylinder in order to perform the lift. These are overall less expensive than electric ones. On the other hand, electric lifts provide a more smooth, safe transfer for patients. Moreover, they operate using a rechargeable battery.
Electric lifts are all-around more durable and easier to use. Therefore, they are a better option for bariatric patients. It is important to note, however, that the majority of heavy-duty lifts are electric or operate via a combination of manual and electric controls.
For example, the BestLift PL288 Full Body Patient Lift mentioned earlier uses a hand-operated base opening but has the option to be converted to electric and comes at a cheaper price than fully-operated electric lifts.
You can shop for electric bariatric lifts here.
Type of Slings
Amica Medical Supply provides a free sling with every electric lift purchase, which is amazing since some lifts can cost hundreds of dollars! However, you should still make sure your lift comes with the right type of sling.
The first type is the full-body sling. These are good for patients who cannot stand at all and must rely on the sling to transport. Full-body slings offer total head and neck support. Moreover, these slings can hold heavy patients, making it ideal for bariatric individuals. These slings are also best for total or partially-dependent patients or those who have limited head control. They decrease stress on caregivers to move heavy patients and also reduce the number of staff needed, reducing any chance of injury.
On the other hand, standing slings are for patients who are partially dependent, have at least 60% weight-bearing capacity, have control of their head and neck, can sit up at the edge of the bed without assistance, and can bend the hips, knees, and ankles. If the patient cannot do these things, a full-body sling is a better option.
The last type of sling for bariatric patients is the U-sling. This type of sling is meant especially for toileting and hygiene transportation needs. While the full-body and standing slings are for everyday use, this type of sling is meant only for specific situations. Therefore, it is typically purchased as a separate attachment and is not sold with a lift like the other slings are.
While all electric bariatric lifts come with a sling, you can shop for full-body slings here, standing slings here, and U-slings here.
Adjustable Parts
Most lifts have adjustable parts. For example, some lifts have adjustable height, length, reach, closeable legs, and more. You will have to determine what you need in your lift.
Some lifts have all of these adjustable parts, such as the Hoyer Presents Professional Electric Patient Lift. Likewise, the BestLift PL600-D Bariatric Patient Lift has a performance control system, a standard low base, an optional high base, and a spreader bar than can extend from 27" to 81". Additionally, the Medline Power Elevating 600lb Electric Patient Lift has a power-operated base that allows you to reposition the legs, floor pick-up capability, emergency stop capabilities, and more!
Optional Parts
Some bariatric lifts come with extra parts, such as removable footplates, optional scales, and wall chargers. For example, the BestStand SA600 Stand-Up Patient Lift comes with an adjustable knee pad and a detachable footplate. The BestLift PL600-D Bariatric Patient Lift and the Hoyer Power 700 Bariatric Electric Patient Lift comes with an optional wall charger, which makes it easier to power up your bariatric lift.
Lastly, Amica Medical Supply sells twelve bariatric lifts that have the option of doubling as a scale. This is a great tool because you can weigh bariatric patients while they are being lifted rather than weighing them in another time-consuming step.

You can shop for bariatric lifts with scales here.
What is the Best Bariatric Lift?
In the end, there is no one-size-fits-all solution. The best bariatric lift is simply one that meets your individual needs regarding weight, usability, safety, type of sling, and extra parts that make using the product easier. Therefore, we recommend purchasing a lift mentioned in this article that will work for you or contacting Amica Medical Supply for more information about finding a lift that is right for you!