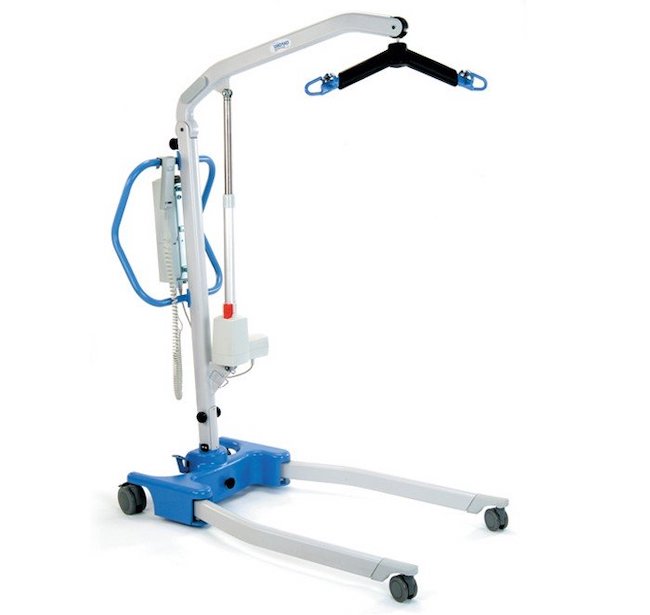 Patient lifts maneuver individuals in hospitals and nursing homes to decrease caregiver injury. In addition, patient lifts are especially helpful in in-home healthcare settings where patient transfers are commonplace.
Patient lifts are vital machines that make the patient transfer much easier and one of the best lifts you can get is a Hoyer lift.
There are two ways you can get a Hoyer lift: You can buy one or you can rent one. In this article, we'll discuss the pros and cons of both buying and renting a Hoyer lift so that you can make the best decision for your needs.
Read on to learn more about the pros and cons of renting vs. buying your Hoyer patient lift!
Pros and Cons to Buying vs. Renting Hoyer Lifts
As mentioned, there are advantages and disadvantages when you either buy or rent a hover lift. Let's take a look at these below:
Buying a Hoyer Lift: Pros
One of the greatest advantages of purchasing a Hoyer lift is that you get complete ownership of it. In this case, you can issue upgrades that may not be available if you rented the lift.
Moreover, buying a Hoyer lift is the best option for long term care. Renting will ultimately cost more if you plan to use the lift for a long period of time. Therefore, buying a Hoyer lift is a more cost-effective option in the long run.
Another great thing about owning your Hoyer lift outright is that you can resell it when you're done with it! You also have the opportunity to earn equity if you buy a Hoyer lift. This is an advantageous option if you don't plan to use the equipment long term.
While buying may seem expensive; nonetheless, you can find affordable options at Amica Medical Supply. They offer a personalized experience to help you find the best lift for you and even have online instructions on how to use Hoyer lifts and where to find replacement parts.
Buying a Hoyer Lift: Cons
There are great advantages to purchasing a Hoyer lift. Nonetheless, there are a few disadvantages that you should know before making the purchase.
First, while it may be less expensive to buy a Hoyer lift than to rent one over a long period of time, you still have to pay money upfront. However, Medicare can partially cover the purchase of your lift.
Moreover, if your Hoyer lift doesn't have a warranty, you will have to pay for any damage or maintenance of the machine. However, this shouldn't be a problem if you purchase your lift from Amica Medical Supply because we offer warranties on our products.
Lastly, as new technology emerges, old Hoyer lifts' market value will depreciate with time.
Hoyer Lift Rental: Pros
When you rent a Hoyer lift, you make regular, monthly payments. That being said, renting is perfect for short term recovery, such as after a surgery.
Another added bonus to renting is that the rental company will pay for the maintenance of the machines and you can typically upgrade your lift model without a huge fluctuation in price.
Lastly, if you're not sure how long you will need the Hoyer lift, renting gives you the option to return it without penalty when you no longer need it.
Hoyer Lift Rental: Cons
However, as mentioned, renting a lift will ultimately cost you more in the long run. If you plan on using the lift for more than a year, you are better off buying a Hoyer lift.
In addition, while the rental company will pay for the maintenance of your unit, you are still responsible for any damage that is done to the machine while it's in your care.
Lastly, when you rent a Hoyer lift, you don't have the opportunity to resell it and earn back some of your initial investment. You don't own it so you don't have control over it. For example, you won't be able to install extra parts or upgrades if the rental company does not offer them.
How To Qualify for a Hoyer Lift
If you're unsure of whether you qualify for a Hoyer lift, contact your insurance company. Generally, to be eligible, you must:
Have a medical condition that requires the use of a Hoyer lift
Have a doctor's prescription for a Hoyer lift
Be unable to perform the transfers independently or with the help of a caregiver
Not be able to use an alternative device, such as a wheelchair or walker, to perform the transfers
If you meet all these qualifications, your insurance should cover part or all of the cost of the Hoyer lift.
What Type of Hoyer Lift Is for You?
Now that you know the difference between renting and buying a Hoyer lift, as well as how to qualify for one, it's time to figure out which type of Hoyer lift is right for you. Amica Medical Supply offers a variety of Hoyer lift models, so finding the perfect one for you is easy.
Here are some factors to consider when choosing a Hoyer lift:
The weight limit of the patient. All Hoyer lifts have different weight limits, so it's important to choose one that can accommodate your needs.
The type of transfer you need. There are two types of transfers: Sit-to-stand and stand-to-sit.
The dimensions of the patient. Hoyer lifts come in different sizes, so it's important to choose one that will be comfortable for the patient.
The height of the patient. Some Hoyer lifts have higher height limits for taller patients.
The type of battery. There are two types of batteries: Lithium-ion and lead-acid. Lithium-ion batteries are more expensive but last longer and are lighter. Lead-acid batteries are less expensive but heavier and don't last as long.
Where To Buy a Hoyer Lift
Now that you know everything there is to know about Hoyer lifts, it's time to buy one! Amica Medical Supply offers a wide variety of Hoyer lift models at affordable prices.
Not sure which model is right for you? Our team of experts is here to help. Give us a call and we'll help you find the perfect Hoyer lift for your needs.
Get Your Hoyer Lift Today!
Whether you decide to buy or rent a Hoyer lift simply depends on your personal circumstances. However, it mostly comes down to the length of time you plan on using the lift. If you would like to put patient lifts in a hospital or nursing home, it's usually better to buy. If you need one for personal home care use for a limited period of time, you may consider a Hoyer lift rental unit instead
If you decide to buy, Amica Medical Supply offers affordable prices on Hoyer patient lifts for purchase. You can also check out our wide range of patient lifts and transfer equipment. Contact Amica Medical Supply today to learn more!