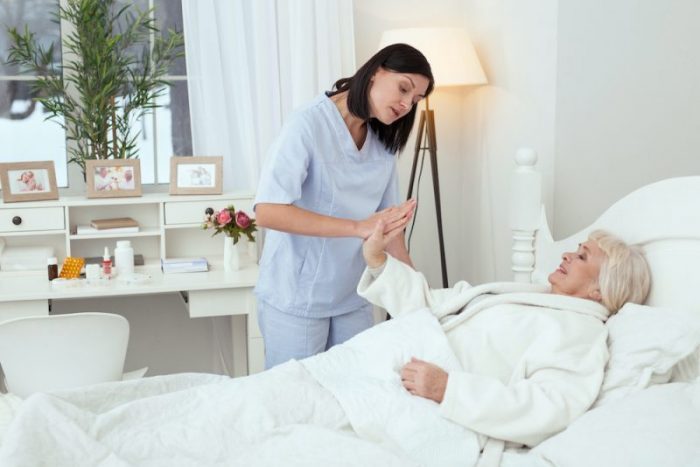 Do you or your patient spend long hours in bed?
Laying in bed for long extended periods of time can cause skin ulcers and bedsores to form, which can be extremely uncomfortable for patients.
The solution? An alternating pressure mattress!
These mattresses work wonders for bedridden patients. Learn more about how alternating pressure mattresses work as well as the life-changing benefits of using one in this comprehensive article!
What is an Alternating Pressure Mattress?
How They Work
Alternating pressure mattresses have pockets of air located length-wise down a mattress that inflates and deflates one at a time, alternating the pressure points on the body.
These mattresses are specially made for patients who spend long hours in bed.
What is the Standard Size?
The standard size for an alternating pressure mattress is 75 x 32 inches, which fits standard-sized hospital beds.
However, some bariatric models can reach up to 80 x 42 inches.
Additional Features
Some models can turn patients from a back-lying position to a side position by as much as forty degrees, allowing patients to shift in bed without exerting themselves.
Additionally, some mattresses have areas at the top and bottom of the mattress that guard sensitive skin against unnecessary friction.
Last but not least, some alternating pressure mattresses have safety features that prevent patients from getting trapped between the mattress and the bed rails.
Benefits of Using an Alternating Pressure Mattress
Treats and Prevents Bed Sores and Skin Ulcers
One of the biggest benefits of using an alternating pressure mattress is that it reduces the risk of developing bed sores or skin ulcers.
Essentially, because the mattress inflates and deflates at different intervals, the patient won't have continuous pressure subjected to any one area on his/her body. In other words, alternating where pressure is placed on a patient will ultimately reduce the risk of bedsores and skin ulcers.
Additionally, the mattress can help treat people who already have pressure ulcers. Patients will overall feel more comfortable while in bed.
Increases Circulation
Second, these mattresses enhance circulation through pressure redistribution.
When the air pockets in the mattress deflate, the change in pressure causes increased blood flow. This way, the blood can travel to the skin and other tissues to heal skin breakdown, heal bedsores, and nourish the skin.
Overall, increased circulation will increase the health of someone who spends long hours in bed or cannot move.
Enhances Sleep
Last but not least, the mattresses reduce the need for tossing and turning, allowing patients to wake up more awake and refreshed.
When you shift in your sleep, it's usually to reposition where your mattress is pressing against you so you don't develop bedsores. However, when individuals toss and turn, it can cause you to fall out of deep sleep or even wake up.
An alternating pressure mattress thus makes it easier for patients to get the rest they deserve by reducing the need for moving in sleep.
Purchase Your Alternative Pressure Mattress Today!
In the end, alternating pressure mattresses are a must-have for anyone who spends long hours in bed and is at risk for developing bedsores or skin ulcers.
But where can you find top-quality mattresses at the lowest prices available?
Amica Medical Supply is the largest online dealer and distributor of top brand medical products. Their close relationship with manufacturers allows Amica to offer the lowest prices possible on all their products.
Additionally, when you buy an alternating pressure mattress, you get free shipping. With excellent customer service and safe, secure ordering, Amica is a go-to for all your medical supply needs.
Shop for alternating pressure mattresses today! Their large selection makes it easy to find the perfect one for your needs and at the right price.
In the market for a hospital bed to go with your alternating pressure mattress? Amica has many to choose from, whether you want to rent or buy one.
For more information, contact Amica Medical Supply today.