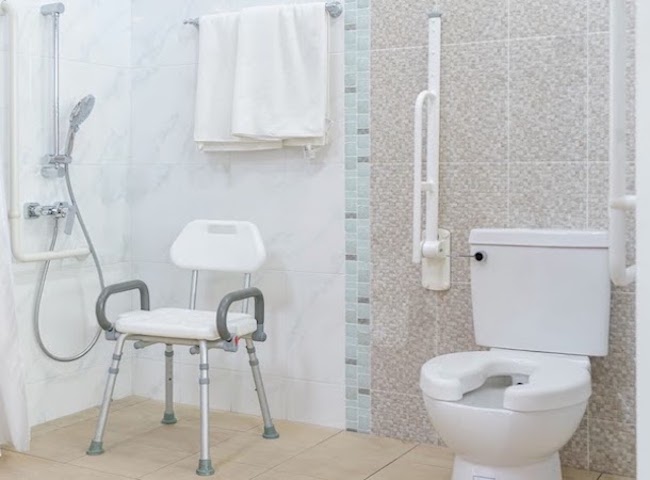 The bathroom can pose a high level of risk for elderly people if not properly equipped. Towel racks, bath mats, and night-lights are all helpful bath safety products that can bring peace of mind to elderly people trying to navigate their bathrooms alone. Ensuring that your bathroom is modified can increase general safety for seniors and offer a sense of freedom in eliminating the need for help.
5 Bathroom Safety Tips for Seniors
The bathroom comes with a handful of potential safety hazards that should be avoided when possible. We've compiled a list of tips to achieve bath safety for the elderly that can help reduce risk and injury without limiting the freedom to navigate the space alone.
Keep a Clean and Organized Bathroom

The first step in increasing bath safety for the elderly is to prioritize cleaning. Having a clutter-free bathroom can eliminate potential trip hazards and leave a clear pathway open to the bathtub. Remove any laundry baskets, additional shelving, or other unnecessary items from the bathroom floor to decrease the risk of bathroom accidents.
Create a Shower Caddy

One of the leading causes of dangerous accidents in the bathroom is being unable to reach items safely. Having to stretch or move too far for an item can lead to an injury-inducing fall. Consider creating an easy-to-reach shower caddy that holds any toiletries needed during a bath. You can attach this to the side of a shower chair or create a removable caddy that can be brought into the shower when needed. Keep items at arm's reach to enhance bath safety.

Install Wall Mount Grab Bars

Slipping while climbing in or out of the bathtub is another danger posed in the bathroom. For elderly people with a bit more mobility, installing a grab bar or rail to the walls of the shower may be an ideal solution. These bars provide extra stability, support as you climb in and out of the space, and can help prevent falls.

Invest in a Non-Slip Shower Chair

Another bathroom safety tip for seniors includes investing in non-slip shower chairs. These devices are helpful solutions for navigating the shower, particularly for individuals with limited mobility. The chairs stick firmly to the shower floor and, when paired with a detachable showerhead, are a great way to clean off without risk of a fall or injury. If your bathtub cannot accommodate a chair, consider a non-slip mat to ease the risk of falls.

Consider Lighting Changes

Though a remodel may be a bit of a hassle, it may be a worthwhile investment in the long run. By increasing the amount of lighting in the bathroom or re-arranging the current lighting to a more convenient location, you can reduce the risk of bathroom injury. By adjusting the lighting amount, it can be easier to see potential trip hazards, find toiletry items, and navigate the shower space, particularly when using the bathroom at night.
Bath Safety Products to Invest In
Bath safety for the elderly is essential in reducing bathroom injury risk and hazards. Luckily, there are plenty of bath safety products designed to make maneuvering around the bathroom a little easier.
Shower Chairs

Shower chairs are a convenient way to get clean without the fear of slipping and falling. The Deluxe Aluminum Bath Chair from Amica is a resourceful solution to a safe bath. The chair boasts an adjustable height and skid-resistant suction feet that will fit your needs and keep you securely seated. The lightweight design may even work as a safer option to attach your handy shower caddy to.
Grab Bars & Rails

When shopping for grab bars and rails to attach to your bathtub, you'll want to find a durable and protective design that ensures top-tier safety. Thankfully, Amica offers a Tub Rail that meets those exact standards. The easy-to-clean product even comes with all the tools you'll need to properly install the device.
Detachable Showerheads

A detachable showerhead can be extremely useful for enhancing bath safety for the elderly, especially those using shower chairs. A Deluxe Handheld Shower Spray can be used as a regular showerhead or a removable handheld spray. The flexible use of this product provides a customizable experience to increase safety and comfort.
Bathroom Transfer Systems

For a more advanced safety experience in the bathtub, you may want to consider a bathroom transfer system. With a TubBuddy, you can securely transfer from the toilet seat into the bathtub without having to navigate slippery surfaces. Be aware of the weight capacity of both your bathtub and toilet before installing this transfer bench in your space.
Enhance Your Bath Safety with Amica

With so many bath safety products and solutions available, finding peace of mind in the bathroom doesn't have to be an overwhelming challenge. Your customer satisfaction is Amica's top priority, so you can trust that our products are carefully selected to ensure the highest quality and bath safety for the elderly. Contact us today to find out how our experienced team can help you overcome any risks your bathroom brings.