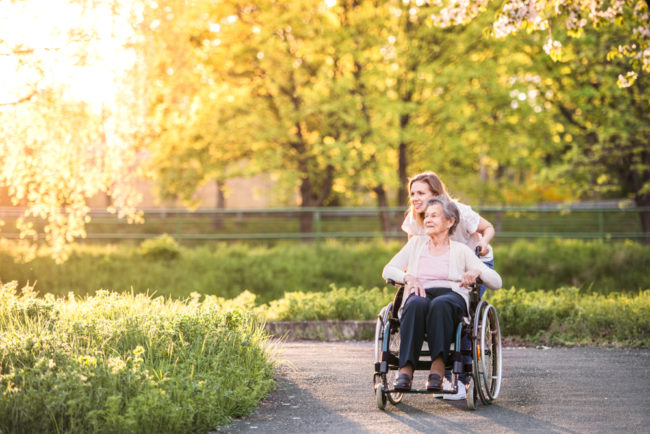 Out of the 18 million people in the United States who suffer from limited mobility, only 2.7 million use wheelchairs. However, wheelchairs allow individuals to travel around easier, improving their quality of life.
Therefore, if you, a loved one, or your patient suffer from limited mobility, it's important that person receives the right transportation device to help them get around. However, it's not always easy finding the perfect wheelchair to suit your needs. That's why we've compiled a list of the top five cool wheelchairs for you to purchase!
Read on to find a wheelchair that's right for you!

Cool Wheelchairs for Everyday Use
1. Drive Medical Cruiser III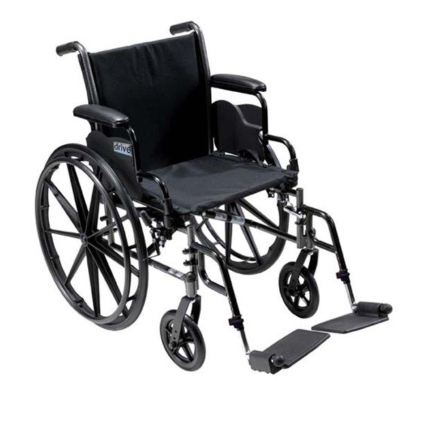 Drive Medical Cruiser III is a standard wheelchair ideal for patients who want a quality, long-lasting wheelchair at an affordable price. This model is complete with desk-length removable armrests, an adjustable seat rail extension, and a carbon steel frame with silver finish. Moreover, the wheels are precision sealed, meaning they are made to last. Overall, this wheelchair is built for comfort and durability, making it ideal for any patient!
>>Shop for standard wheelchairs here
2. Medline Hybrid 2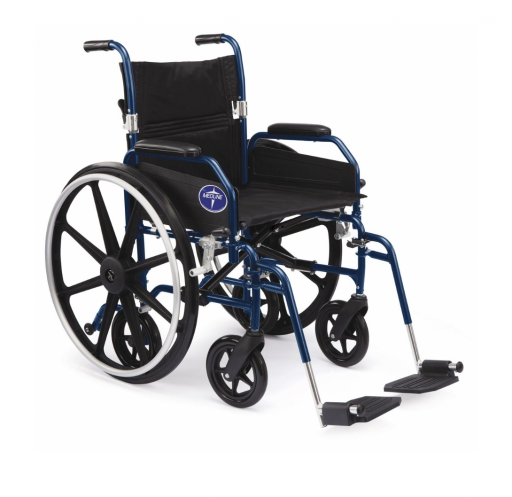 Medline Hybrid 2 is a transport wheelchair, meaning it folds down and is lightweight. This model, however, has all the benefits of a standard wheelchair and a transport wheelchair in one ergonomic model! Essentially, you can switch between standard and transport wheelchair in seconds.
The Medline Hybrid 2 comes with two different kinds of rear wheels: twenty-four-inch wheels for self-propel use and eight-inch wheels for companion use. When the twenty-four-inch wheels are on, the chair weighs thirty-three pounds. On the other hand, when the eight-inch wheels are on, the chair weighs only twenty-four pounds. Go from standard to transport or vice versa in seconds with an easy push of a button!
>>Shop for transport wheelchairs here
3. Karman Healthcare Ultra Lightweight LT-980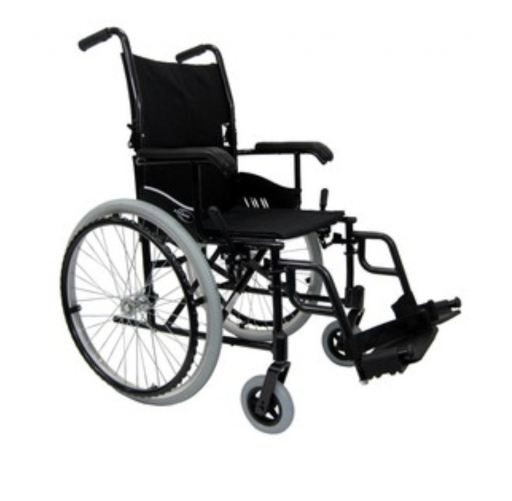 Karman Healthcare Ultra Lightweight LT-980 is a lightweight wheelchair, weighing only twenty-four pounds! This cool wheelchair has height-adjustable footplates, adjustable wheel locks, fixed armrests with molded arm pads, swing away detachable footrests, and a backrest pocket to carry belongings. Additionally, though this isn't considered a transport wheelchair, the Ultra Lightweight LT-980 has a folding backrest for convenient travel or storage. Lastly, the durable, lightweight aluminum frame ensures a long-lasting model!
>>Shop for lightweight wheelchairs here
4. Invacare 9000 Topaz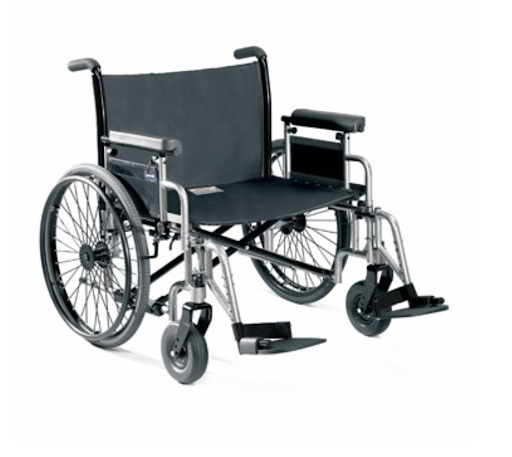 Invacare 9000 Topaz is a heavy-duty wheelchair meant for bariatric patients. This particular chair can support up to 700 pounds. The reinforced extra-strength carbon-steel frame, heavy-duty front riggings, and heavy-duty triple inner liners mean this is one of the most durable wheelchairs on the market. In addition to strength, the Invacare 9000 Topaz gives patients optimal comfort and support by ensuring correct positioning. If you need a bariatric wheelchair, the Invacare 9000 Topaz is the best!
>>Shop for heavy-duty wheelchairs here
5. Karman Healthcare ATX-S Ultralight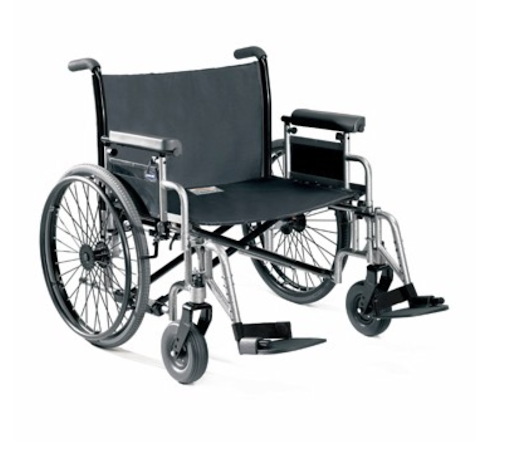 On the other hand, the Karman Healthcare ATX-S Ultralight is an ultralight wheelchair, weighing only 15.4 pounds, making it ideal for active individuals. The ATX-S Ultralight, in particular, is made with rigidity and agility in mind. The multi-geometric extruded crossbars, in particular, provide a bold, cool design for any user. In fact, this chair is the result of years of research and development. The unique tubes, welding, and components are precisely optimized to provide the perfect strength to weight ratio.
Moreover, this chair comes with many adjustable parts. For example, the seat height, front fork, footrests, and backrest tension are all completely adjustable. This chair doesn't just look cool, but it's as ergonomic as they come!
>>Shop for ultralight wheelchairs here
6.  Whill Ci White Wheelchair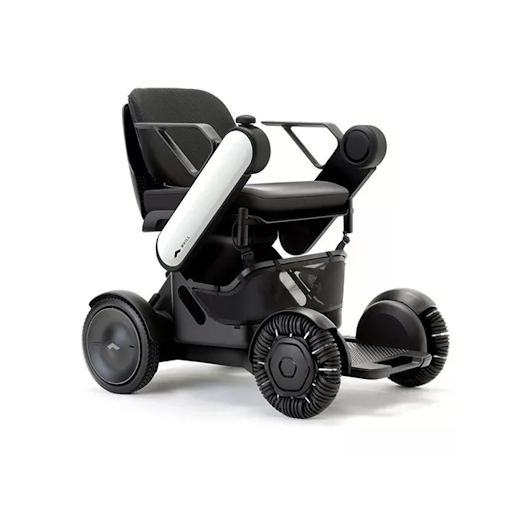 The Whill Ci WheelChair does not look like your typical wheelchair. That's because it combines aspects of a scooter and a power wheelchair for an amazing user experience indoors and outside. You can connect the chair to your iPhone using the WHILL Ci mobile app. You can control your speed settings, lock and unlock the chair, and bring the chair to you all from your phone.
In terms of portability, the Whill Ci is a great option. In less than 10 seconds, the chair comes apart into three separate components. Outdoor navigation is a breeze thanks to the dual motors and high grip omni wheels. The electromagnetic brakes ensure smooth stops while built-in anti-tip features keep the user steady.
>>Shop for power wheelchairs here
Purchase a Cool Wheelchair Today!
Don't see a wheelchair that is your perfect fit? Check out this comprehensive wheelchair buying guide to find one that suits your needs.
Amica Medical Supply has a HUGE selection of cool wheelchairs at the lowest prices. Whether you need to purchase a pediatric, geriatric, standing, shower, tilt, or bariatric wheelchair, Amica Medical Supply has options for everyone! Moreover, they also have a large selection of power chairs for those who want an easy, modern mobility option.
Contact Amica Medical Supply today for more information about purchasing your cool, modern wheelchair!