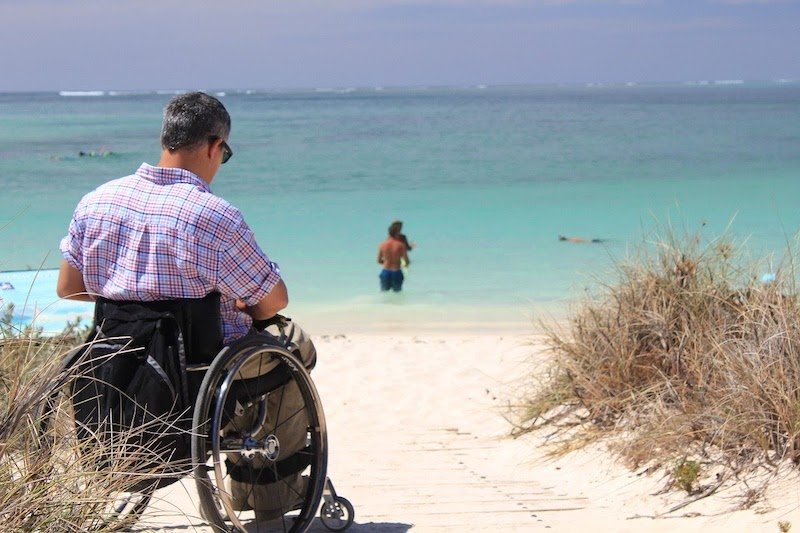 When shopping for a wheelchair, there are many factors to consider before purchasing. The right wheelchair will provide comfort, mobility, and safety for the user. But not all wheelchairs are created equal.

Luckily, we've compiled a guide on how to buy a wheelchair so that you can shop with confidence.

Keep reading for a breakdown of things to consider when shopping for a wheelchair along with recommendations on the best wheelchairs.
Choosing the Right Wheelchair
First and foremost, consider the unique needs of the wheelchair user. Is this wheelchair going to be used for extended periods or just short trips? Will the wheelchair user be self-propelling, or do they require someone to push the chair?

Listing the qualities, you are looking for in a wheelchair will streamline the search prosses. Additionally, it will narrow down the options and provide clarity on what to look for.

Explore some different types of wheelchairs and the features they offer below.
1. Standard Wheelchair
Standard wheelchairs come with large, sturdy wheels so the user can propel them. Additionally, handles on the back offer the option for the user to be pushed in the wheelchair.
These chairs are built with a sturdy frame made of steel, meaning they are durable and long-lasting. Standard wheelchairs can be folded to increase portability and are generally cost effective transport solutions.

Typical Weight: 35-44 lbs

Ideal For: Those who won't be in the wheelchair long term. It can be used for excursions and daily use to get around.

Our Pick: An easy to maneuver, durable standard wheelchair: The Rebel by Drive Medical

2. Transport Wheelchair
As the name suggests, transport wheelchairs are made to be portable. They come with a collapsible frame, making them easier to pack up than standard wheelchairs.
Transport wheelchairs have four small wheels and must be pushed by someone. Despite being lightweight, some transport chairs can support up to 300lbs.

Typical Weight: 20-30lbs

Ideal For: Short trips out and about or daily use for short periods.

Our Pick: Designed with comfort and portability in mind: The T-2700 Transport by Karman Healthcare
3. Lightweight Wheelchair
Lightweight wheelchairs are a popular wheelchair choice for many reasons. Firstly, they are easy to use. They allow self-propulsion and are. Secondly, they are easily stored and can be transported with minimal effort.
Lightweight wheelchairs also offer many adjustable parts. You can adjust the seat angle, foot and armrests, and more.

Typical Weight: 25-34 lbs

Ideal For: Frequent use. Individuals who can move around on their own and would like more independence would benefit from a lightweight wheelchair.

Our Pick: A lightweight yet durable standard wheelchair: The Cruiser III by Drive Medical

4. Reclining Wheelchair
Reclining wheelchairs offer a great amount of adjustability and comfort. They allow the user to recline at varying angles to relieve pressure. These chairs are typically larger than other wheelchair types, but there are lightweight versions available.
Reclining wheelchairs make transferring users from the chair to the bed easier. This is due to the reclining back feature that can be adjusted to be parallel to a bed.

Typical Weight: Varies. Lighter models feature a 35lb frame

Ideal For: Those who will be using the wheelchair full time. Individuals with low blood pressure can benefit from the increased circulation provided by the angling of the chair.

Our Pick: A versatile and reasonably priced recliner: 9000 XTR by Invacare

3. Bariatric Wheelchair
Bariatric wheelchairs, or heavy-duty wheelchairs, can accommodate users up to 600lbs. They feature reinforced frames and wider seat widths. Depending on the model, some bariatric wheelchairs can support up to 850lbs.
Some bariatric wheelchairs come in foldable models to allow for easier transport.

Typical Weight: Around 50lbs

Ideal For: Users who require additional weight support. Those who need a wider seat or have higher weight capacity requirements can benefit from a bariatric wheelchair.

Our Pick: A durable chair with reinforced frames and upholstery: Sentra HD500 by Drive Medical

Ensure a Safe Ride
Once you know the type of wheelchair to look for, it's time to choose the correct seat width. Choosing the correct wheelchair seat width is pivotal in ensuring a safe and comfortable ride for the user.

The size of a wheelchair's seat impacts the overall wheelchair size. Thus, choosing the seat width is the main step in determining wheelchair size.

The typical seat width ranges from 16" to 20", with 18" being the width for an average adult. For more information, check out our guide to understanding wheelchair width.
Where to Buy a Wheelchair
With so many medical suppliers and stores, the options may feel overwhelming. Simplify your shopping at Amica Medical Supply. Amica offers a price match guarantee on all wheelchairs as well as excellent customer service so your experience can run smoothly.

With a large selection of wheelchairs and knowledgeable customer service reps, you are sure to find the wheelchair that suits you. If you still have questions, don't hesitate to contact Amica Medical Supply today.

Shop the wide selection of wheelchairs available at Amica Medical Supply today.