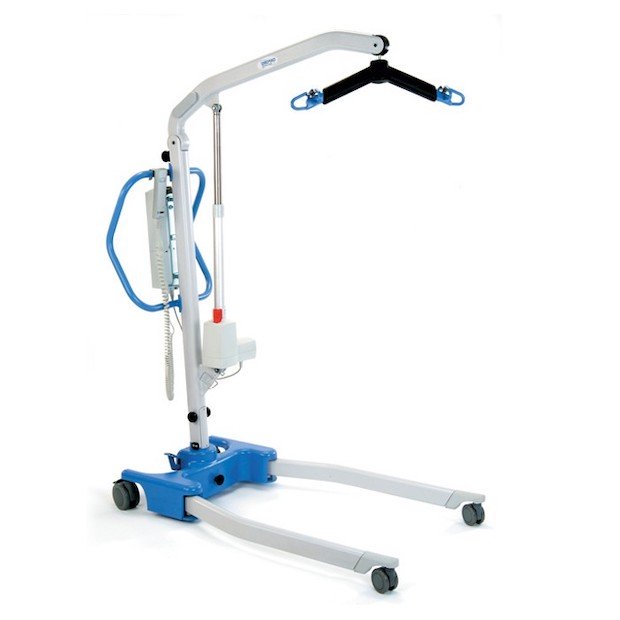 Decreased mobility is a common side effect of aging. Fortunately, many devices have emerged to assist with this loss. These devices are often meant to assist with tasks such as getting out of bed or maneuvering the bathtub. One such device is the Hoyer lift. You may be asking, "What is a Hoyer lift?" We'll answer that question for you in the next section.
When it comes to purchasing a Hoyer lift, there are a few factors you'll want to consider. While the basic operation is similar for most major manufacturers and models, small differences may make your choice easier. Keep reading to learn more about what a Hoyer lift is and tips for buying your next Hoyer lift.
What is a Hoyer Lift?
So, what is a Hoyer lift? Also known as a total body lift, the Hoyer lift is designed to help individuals with decreased mobility get out of bed or the bath. This lift is a beneficial tool for caregivers who need additional support transferring patients.
There is a variety of Hoyer lifts available depending on an individual's needs and the room set up where the lift will be installed. Hoyer lifts can be installed right into the wall, free-standing, or on wheels. Lifts may be power-operated or manual.
As you begin the process of buying a Hoyer lift, keep in mind the following tips to help you decide which lift is best for your situation.
What to Know About Buying a Hoyer Lift
Buying a Hoyer lift is a major investment, so you'll want to make sure you buy the right one for you. Before purchasing a lift, take some time to consider the factors below and speak with your healthcare provider about which options may be best.
Type of Lift
As you begin your search for a Hoyer lift, you'll need to determine what type of lift will work for you. This includes determining the following:
Electric vs. Manual.

Manual lifts tend to be more affordable and do not require an electrical source to operate.

Electric lifts

, on the other hand, are a bit easier to operate and can handle a higher weight capacity.

Movement.

Consider where you'll be using your Hoyer lift and if you will need it in multiple rooms. You may want to consider a

portable lift

if movement is necessary. If you'll only be using the lift in one room permanently, you may have the option to install it right into the wall or ceiling.

Size.

Hoyer lifts come in different shapes and sizes. You'll need to find one that will fit into your space while still being helpful.

Adjustability.

Depending on its use, you may need to adjust your lift to fit the circumstance. In this situation, you'll want a Hoyer lift that can adjust to different heights.
Mechanical Elements
Once you've chosen the type of lift you'd like, you'll want to ensure that the necessary mechanical elements are present and functioning properly. These include:
Make sure the base opens to ensure stability during patient transfer, and accommodate a wheelchair, lift chair, or commode.

Make sure the base opening mechanism is easy to operate via hand lever or foot pedal.

Ensure the

patient lift

is able to lift a person from the floor.

Make sure the hydraulic pump has an ergonomic handle to make it easy to pump. Most patient lifts require around 50 strokes to lift the patient from the floor.

Make sure the sling cradle is well designed. Some cradles have sling attachment points wider apart. This allows for more comfortable positioning of the patient and the sling.

Make sure the lift has locking casters. Locking rear wheels help stabilize the lift during transfers and makes it easier for one caretaker to operate.

Make sure the pressure release lowering mechanism is large and easy to use. The screw-down release valve is designed for one-hand operation and controls patient descent.

Make sure the metal base is covered with padding. Soft non-marring plastic protects your furniture from scuffs and scrapes.

Make sure the proper sling type is used. There are

full-body slings

,

commode opening slings

, and

U-slings

. Full body slings cradle a patient similar to a hammock. U-slings are great for bathroom transfers and wheelchair positioning.

Make sure the sling is appropriately sized. Too large or too small of a sling is uncomfortable for the patient and unsafe during transfers.
Payment Methods
After you've decided to invest in a Hoyer lift, you'll need to determine your payment plan. There are a few options you can choose from when it comes to payment.
Out of pocket.

If you're able to afford your Hoyer lift on your own, this is one option for payment.

Medicare.

Though Medicare will not cover electric lifts, your plan will often cover a high percentage of a

manual lift

. You'll need to obtain a prescription from your healthcare provider and follow the Medicare guidelines regarding approval and purchase.

Veteran assistance.

Some states will offer assistance to veterans in need of a Hoyer lift. Research your state's specific guidelines to determine if you qualify and how to apply for this aid.
Purchasing a Hoyer Lift with Amica
Not sure where to begin your Hoyer lift search? Look no further than Amica Medical Supply. As the largest online Authorized Dealer for top brands, you can find just the Hoyer lift you're looking for from our extensive list of products.
Customer satisfaction is our top priority, which is why we go above and beyond to ensure that you receive the product you need. Our Product Experts can answer all your questions about buying a Hoyer lift. Contact us online or at 1-888-939-0774 to learn more about our Hoyer lift options!