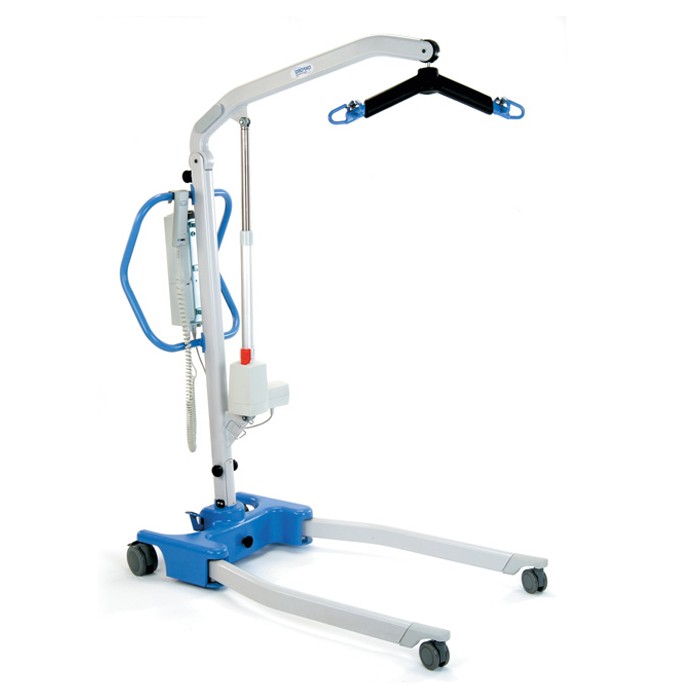 There are many things to consider when purchasing a hoyer lift. While basic operation is similar for most major manufacturers and models, small differences may make your choice easier.
Make sure the base opens to ensure stability during patient transfer, and accommodate wheelchair, lift chair or commode.
Make sure the base opening mechanism is easy to operate via hand lever or foot pedal.
Ensure the patient lift is able to lift a person from the floor.
Make sure the hydraulic pump has an ergonomic handle to make it easy to pump. Most patient lifts require around 50 strokes to lift the patient from the floor.
Make sure the sling cradle is well designed. Some cradles have sling attachment points wider apart. This allows for more comfortable positioning of the patient and the sling.
Make sure the lift has locking casters. Locking rear wheels help stabilize the lift during transfers, and make it easier for one caretaker to operate.
Make sure the pressure release lowering mechanism is large and easy to use. The screw-down release valve is designed for one hand operation and controls patient decent.
Make sure the metal base is covered with padding. Soft non-marring plastic protects your furniture from scuffs and scrapes.
Make sure proper sling type is used. There are full body slings, commode opening slings and U-slings. Full body slings cradle a patient similar to a hammock. U-slings are great for bathroom transfers and wheelchair positioning.
Make sure the sling is appropriately sized. Too large or too small of a sling is uncomfortable for the patient and unsafe during transfers.